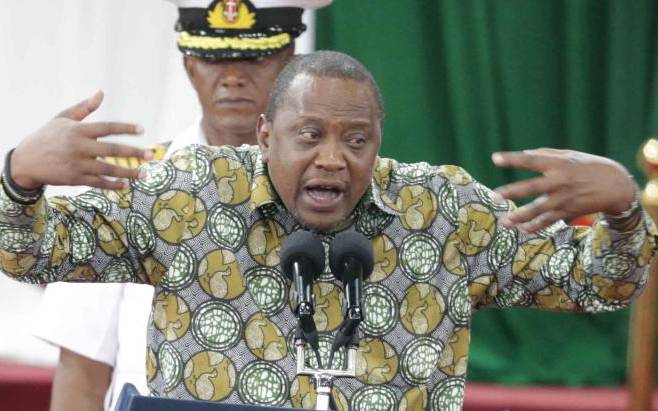 President Uhuru Kenyatta (pictured) wants politicians to focus on the national agenda and stop advancing selfish political interests. Speaking at the launch of the BBI report at Bomas of Kenya yesterday, Uhuru said that over the years politicians have failed to address the concerns of the majority of Kenyans, and only chase their own goals. He challenged them to emulate his example and that of the former prime minister who had to shelve their individual interests for the sake of the country's unity.
SEE ALSO: Pray, tell me, why are we like this?
"I had the option of saying that I have won the election and I can govern by myself and ignore the opposition, after all I have been sworn to office. My brother, Raila, would have done the same and chart his own ways," he said. He went on to explain how dire the situation was and why he had to reach out to Raila. "However, we must agree that we were at a serious crisis that required us to talk as children of the same mother," further explained Uhuru. The president said that while it was not wrong to be ambitious, the ambitions of politicians should not override the national agenda. He said a time comes when the good of the nation is better than an individual's ambitions and it was sad that most politicians only think of themselves.
SEE ALSO: Uhuru's mega merger of rich State firms
Uhuru, meanwhile, maintained that the recent by-election in Kibra was relatively peaceful, unlike in the past, a situation he attributed to the new-found peace after the handshake. He said that this peace needs to be replicated in all political contests. "I maintain, though there are some people who don't like it when I say it, that Kibra campaigns were relatively calm. There were few incidents involving the political leaders, who can anyway afford treatment in Nairobi hospitals. That is the peace that I want us to entrench," he said. He joked that one of his campaigners in the slum told him that that was the most enjoyable campaign and even wished the campaigning period was extended for a few weeks. The president also challenged legislators in the National Assembly to stop meddling in the affairs of their counties, saying they should leave the task to governors and MCAs who have the constitutional mandate of shaping development in the grassroots. "As for you, you should concentrate on the legislative duties here in Nairobi. Matters of what roads needs to be made where, the water projects in the villages, leave that to governors and their MCAs. That is not your business," he said.
SEE ALSO: Uhuru sets up transport logistics network