Owalo decries voter intimidation, bribery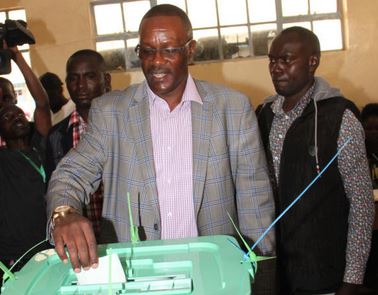 Amani National Congress (ANC) candidate Eliud Owalo has complained of voter intimidation and bribery during the Kibra parliamentary by-election.
Mr Owalo however, said the by-election should have been contested on the platform of ideas as opposed to between personalities and vendetta.
"It is incumbent upon us to accept the results the way they are and move forward for not only the sake of unity of the people but the greater good of Kibra constituency and Kenya at large," said Owalo.
Divisions
He thanked ANC party leader Musalia Mudavadi leader and supporters for rallying behind him during the campaigns.
"I sincerely thank my supporters for standing with me during the campaigns, my party leader Musalia Mudavadi; the entire leadership, rank and file of the ANC Party for the cooperation and support accorded to me during the campaigns," he said.
He maintained that the contest was about the public good of the people of Kibra and not the egocentric interests of individuals.
Owalo congratulated ODM candidate Bernard Imran Okoth for emerging the winner winner in the hotly contested by-election. "I congratulate Imran Okoth for winning the by-election and I also want to appeal to the entire Kibra community to now put the elections behind and move forward in unity devoid of any temporary or artificial divisions that may have arisen among our people during the campaigns," he said.
Imran Okoth was declared the winner with 24,636 votes, Mcdonald Mariga of the Jubilee Party came second with 11,230 votes while Owalo came a distant third with 5,275 votes.