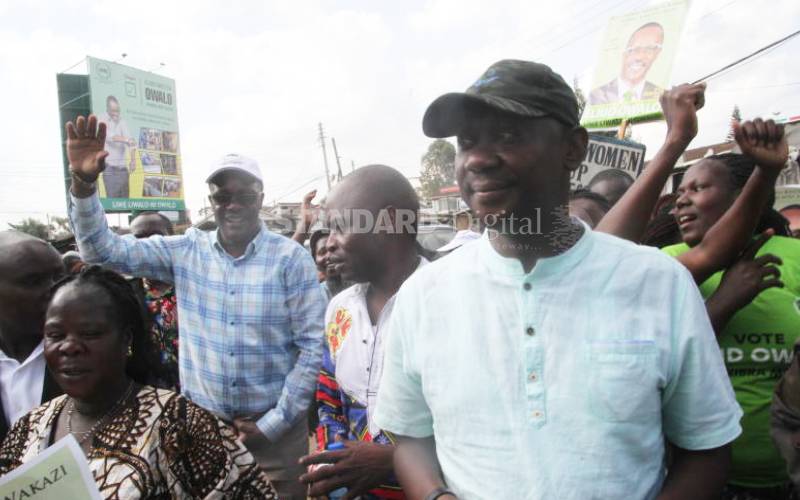 Eliud Owalo, the Amani National Congress (ANC) candidate in the Kibra by-election, has vowed to overhaul all bursary committees in the constituency once elected. Speaking at Nairobi's Kenyatta market yesterday, Mr Owalo said after the overhaul, he would constitute new ones for better service delivery. Owalo spoke as Kibra campaigns entered the final stretch ahead of the November 7 by-election. At least 24 candidates will battle it out to clinch the parliamentary seat left vacant following Ken Okoth's demise. The ANC candidate said he will address the plight of Kibra residents with bursary allocations being key among his reforms.
SEE ALSO: Man United should target Kane over Sancho - Scholes
He was reacting to claims by some Kibra residents who have intimated that 'cartels' had taken over the bursary issuance after Okoth became hospitalised. "Getting Constituency Development Fund money is a right for all Kibra constituents. No leader should make you feel like he is doing you a favour by allocating you funds," Owalo said. "I will also make sure bursary allocation to each needy family is increased from Sh5,000 to Sh10,000," said Owalo. He further pledged to put up a Technical, Vocational Educational and Training centre that will ensure youths in the area are trained in skills that can lead them down the self-employment path. Owalo challenged all his competitors to show what they have done for Kibra, even before they decided to run for the vacant seat.
SEE ALSO: Dortmund insider says he's 'sure' Sancho will complete transfer to Man United
"If you put the 24 candidates on a weighing scale and weigh them based on what they have done for Kibra even before the elections, it is I who will emerge the winner," Owalo said. He called on his supporters to show up in large numbers for the rally planned for today at the DC grounds, where ANC party leader Musalia Mudavadi is expected, in what has turned out to be a three-horse race pitting Jubilee, ODM and ANC candidates. Vihiga women representative Beatrice Adagala, who had accompanied Owalo, took a swipe at ODM. She criticised ODM for referring to Kibra as its 'political bedroom' yet no tangible development has been done by the party in the area. "ODM has been in Kibra for more than seven years yet no notable development has taken place there," said Ms Adagala.
SEE ALSO: McIlroy calls for more majors at public courses
"What is it that they haven't done in seven years that they want to achieve in the remaining two?" Adagala noted Kibra residents' issues could only be addressed by a mature leader who could provide solutions and not create more problems. "Land compensation for Kibra families relocated during construction of the bypass is yet to be carried out. Owalo can work on that," said Adagala.