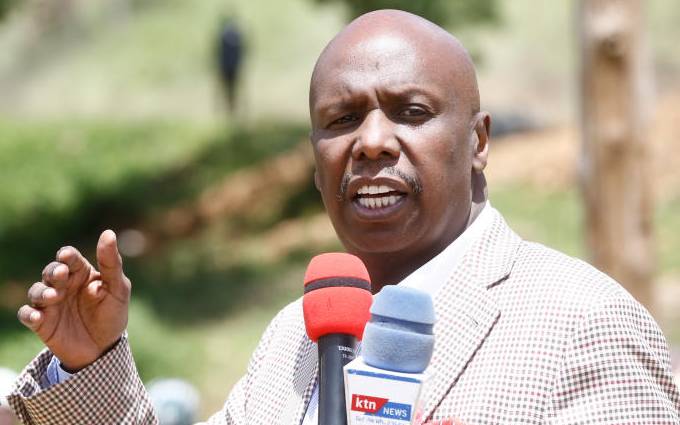 Kanu has thrown its weight behind ODM Kibra parliamentary candidate Bernard Otieno Okoth (Imran).
The party has vowed to constitute a team to lead the campaigns.
The party's top leadership, led by its National Chairman Gideon Moi (Baringo Senator), yesterday made public the decision and pledged to send a high-level campaign team to Kibra to drum up support for the ODM candidate ahead of the November 7 mini-poll.
The senator said in the spirit of the handshake between President Uhuru Kenyatta and Opposition leader Raila Odinga, it was crucial for Kanu to take a stand on the Kibra by-election. "It is important to come out strongly and show our support to the ODM candidate in the spirit of the handshake," he announced during a meeting of Kanu Youth Congress (KYC) at the party headquarters in Nairobi.
Read More
Gideon instructed Kanu Secretary General Nick Salat to immediately constitute the team to support Imran.
On campaign trail
He disclosed that already some Kanu leaders, including nominated Senator Abshiro Halake, were on the campaign trail.
At the same time, Gideon affirmed the party's resolve to embrace youth leadership and participation in politics. "The party's constitution provides for the formation of a strong youth structure that begins at the grassroots," he said.
He took issue with those who had branded Kanu as the party of the old, arguing that such individuals were living in denial. "I know we have been incessantly accused of numerous things, one of them being that we are the party of the old people. But today we are sending yet another very clear and solid signal that those of that school of thought are certainly living in the past," he said at yesterday's meeting.
The Kanu chairman said the party had developed and implemented a robust policy to ensure mainstreaming of youth and gender issues.
"As a party with rich heritage, we pride ourselves in having nurtured almost every single current top political figure in the country while in their heydays within the ranks and file of the party," he said.
He commended partners such as Konrad Adenauer Stiftung, the Oslo Centre, the Centre for Multiparty Democracy and many others for the support extended to Kanu.
The party's youths asked Gideon to announce his candidature for 2022 presidential election.
They said they were already campaigning for him, even as he continues to reach out to like-minded political leaders.