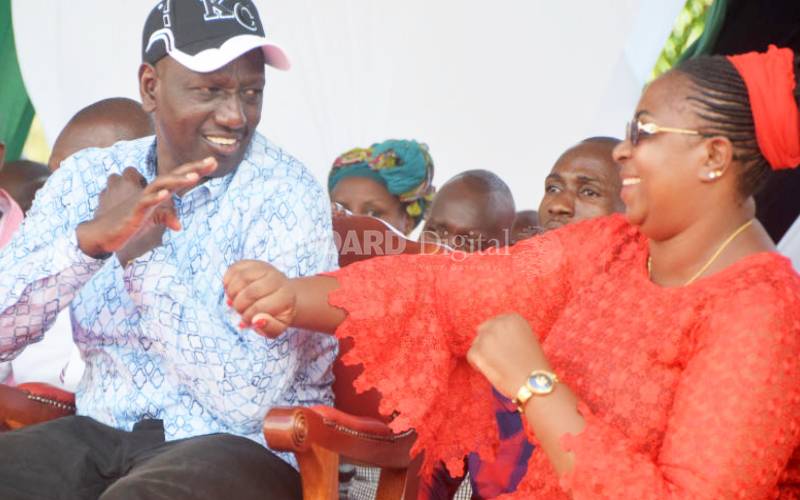 Deputy President William Ruto's return to the Coast after a three-month absence has sparked debate, coming barely a day after President Uhuru Kenyatta met local governors who pledged to refrain from early campaigns. Ruto has been in the region since Thursday visiting all the areas Uhuru toured recently. The DP's visit ended in Taita Taveta. A lot has happened nationally and within Coast since Ruto's last tour of the region. ODM rebels like Suleiman Dori have since returned to the party fold, but Ruto has since acquired a new ally in Nyali legislator Mohamed Ali. The Building Bridges Initiative (BBI) task force has also concluded its tours and will soon release a report that could recommend constitutional changes, leading to a referendum.
SEE ALSO: 2022: Raila purges top ODM organ
Many analysts believe the DP is working hard to regain the ground lost in the intervening period. In the current tour, Ruto has brought together ODM leaders like Paul Katana (Kaloleni) and Badi Twalib (Jomvu), who have recently kept away from the DP's countrywide tours. Kwale Governor Salim Mvurya was detached around the DP this time around while Governor Granton Samboja was on the receiving end of Ruto's displeasure when he toured Taita Taveta.
ODM headache
Ruto toured Tana River, Kilifi, Kwale, Mombasa and Taita Taveta amid reports he was activating political networks he had built in the region that gave headaches to ODM in its stronghold. During his tour, Ruto was accompanied by Malindi MP Aisha Jumwa who has defied her ODM party in her flirtation with the DP's camp.
SEE ALSO: More police officers deployed as construction of Nairobi Expressway starts
Other ODM rebel MPs such as Suleiman Dori (Msambweni), Owen Baya (Kilifi North) and Gertrude Mbeyu (Kilifi), who had joined Ruto's bandwagon, have since severed relations and returned to the party. This time, Ruto was flanked by Ms Jumwa, Mr Ali, Paul Katana (Kaloleni), Benjamin Tayari (Kinango), Badi Twalib (Jomvu), Ali Wario (Garsen, Wiper), Kassim Tandaza (Matuga, ANC), Khatib Mwashetani (Lunga Lunga, Jubilee), Christine Zawadi (Jubilee, Nominated) and Athman Shariff (Lamu East, Jubilee). In most of his meetings, the DP said he was in the region on official duty to launch projects. "I am on a development tour of Coast as the Deputy President. I was not elected to stay in office in Nairobi and take tea, but to assist President Uhuru Kenyatta and ensure Government projects are realised." Ruto said he had launched the Kakuyuni-Gongoni and Kakuyuni-Kilifi pipelines at a cost of Sh2.3 billion to address a water crisis in Kilifi. He also said he had commissioned the Sh240 million Shakahola and Bombi footbridges in Kilifi to ease transport and boost trade.
SEE ALSO: State to roll out instant fine for petty traffic offence
He launched a sewer project at Changamwe in Mombasa, and Pemba Dam in Kinango, Kwale County. The DP conducted a fundraiser for youth and boda boda operators at Mtwapa in Kilifi, a fundraiser for women groups in Lunga Lunga and Mwanda in Kwale, and one for PCEA in Jomvu, Mombasa. The DP also launched a last-mile power connectivity project at Rabai in Kilifi. Speaking after hosting the DP on Saturday, Mr Twalib said Ruto had inspected many Government projects and helped raise funds for several churches, including PCEA where Sh7 million was collected. "I see this as a development tour of the Coast because the DP inspected projects and conducted harambees for several groups. For example, the sewer project launched in Changamwe will serve more than 6,000 residents," Twalib said. Political analyst Maimuna Mwidau said Ruto's tour was 'camouflaged' as a development trip as he sought to revive his political network after MPs renewed their loyalty to ODM. "The DP's tour is significant because he has to strengthen and consolidate his team after it was scuttled and scattered by ODM. It also comes at a time when the BBI has completed its tours of the counties and debate is ongoing on the Punguza Mizigo Bill.
Ground shifted
"Ruto could use the tour to prepare for the referendum, which may lead to the emergence of new political groupings," said Ms Maimuna. She noted that Ruto could also be in the Coast to gauge how the political ground had shifted after his last major tour of the region in June. "We have already seen the Embrace Kenya lobby group aligning itself to the BBI. There is the Inua Mama team that seems to be inclined to the DP. Ruto may be out to re-organise his troops," Maimuna said. Pwani University lecturer Hassan Mwakimako echoed Maimuna's views, saying Ruto was on a campaign to rebuild his Coast team and win the region's support. "It is a fact that Ruto had made inroads in Coast before ODM launched disciplinary action against his supporters and scuttled the team. He is back to gather and strengthen the team and march on," Prof Mwakimako said. He noted that Ruto was using the strategy of launching development projects and conducting harambees to ensure his tour was a success. "It is unexpected for the DP to go inspecting or launching development projects after many Kenyans believed that role was handed to Interior Cabinet Secretary Fred Matiang'i." Last week, President Kenyatta held a meeting with Coast governors, senators and MPs who pledged to stop 2022 politics and instead support the Big Four agenda. During his tour, Ruto pleaded with Coast residents to back his political journey, saying he was ready to support the region's development agenda. Speaking during a fundraiser for boda boda operators and women groups at Mtwapa on Friday, Ruto criticised leaders for always calling him to conduct fundraisers but failing to support the Government. "I am always ready to support you when you call upon me to do so. But you should also return the favour and support us," Ruto said. Jumwa said she regretted her decision not to back Jubilee in the last elections and praised the Government for initiating development projects. The MP said she would not support the BBI report unless any proposed law amendments benefited Coast residents. "I will only support the constitutional changes if they benefit Kitsao, Karisa and Dama, and not just to create influential positions for some people." There has been a political lull since June after Ruto's team comprising about 15 opposition legislators muted their support when ODM threatened to expel Jumwa and Dori for backing the DP's 2022 presidential bid. Jumwa, who was the loudest voice in team Ruto, survived the ouster after the Political Parties Disputes Tribunal quashed disciplinary proceedings that had led to her removal from the party. ODM also turned its guns on Mr Baya, Ms Mbeyu and Mr Tayari, who were once strong supporters of Ruto. Baya and Mbeyu have since withdrawn their support for the DP and re-embraced ODM and Embrace Kenya respectively.