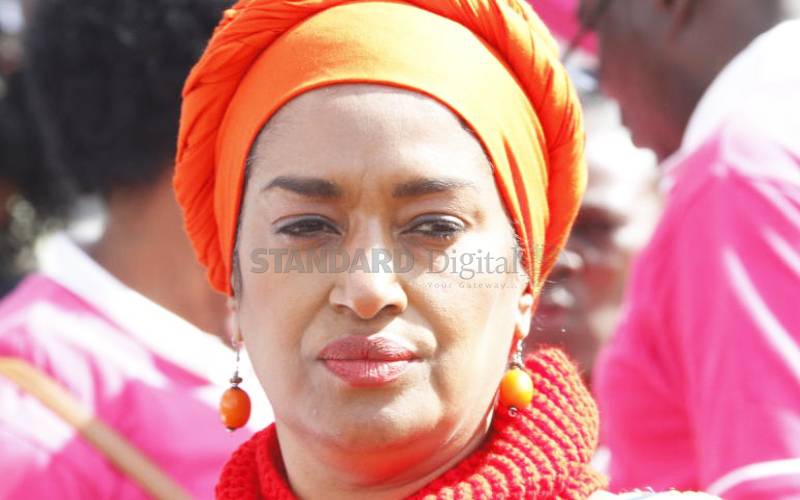 Women leaders allied to Embrace Team urged Kibra residents to shun violence as by-election campaigns intensify. Led by Nairobi Woman Representative Esther Passaris (pictured) and her Vihiga counterpart Beatrice Adagala, the leaders asked aspirants and party leaders to conduct peaceful campaign. "When you see us walk round, we just don't want to make noise but make peace. It's women and children who suffer when there is no peace. Let's embrace and conduct peaceful campaigns," Ms Adagala (ANC) said.
SEE ALSO: Remembering Ken Okoth, one year later
Nairobi County Assembly Speaker Beatrice Elachi urged women to make their votes count by embracing leaders with vision. "It's women who vote in large numbers. Women now should make their voters count and pick leaders who transform the country," she said. Ms Elachi, who also used the opportunity to deliver a sermon at Friends International Church (Quakers), Ngong road urged faithful to shun corrupt leaders and instead elect those who support development. "The country must now fight corruption and demand accountability from the leaders. We must stop corruption and engage in development. Let's stand with what is right in God's eye and let's say no to violence," she said. The leaders were speaking at Friends International Church (Quakers), Ngong Road.
SEE ALSO: Elachi, MCAs wrangles get nastier
The service was also attended by nominated Senator Getrude Musuruve (ODM), Wiper Secretary General Judy Sijeny and Nairobi Woman Representative aspirant Rahab Ndabuki. There was laughter when Dr Musuruve and Ms Passaris took the opportunity to campaign for ODM candidate Bernard Okoth (Imran) while Ms Adagala urged congregants to vote for ANC's Eliud Owalo. "Imran ran all the Kibra programmes as his brother lay sick. Please pick him since he is the best person to complete the vision of Ken Okoth. We want that vision to be fully implemented," Passris added. Musuruve said: "As a member of this church, I urge you to pick Imran as an appreciation to party leader Raila Odinga."