Masinde Muliro: Hero who refused to sell his soul for Cabinet post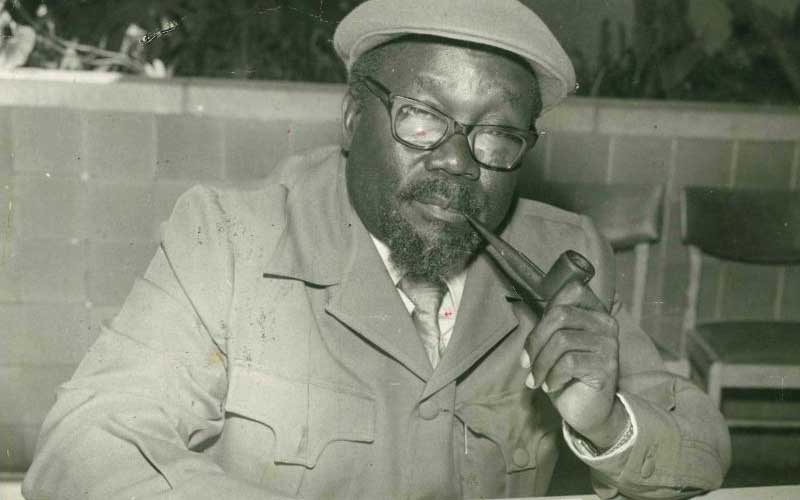 He was a strict no nonsense disciplinarian who despised handout politics, never gave or received bribes but believed in equality and equity. He lost his ministerial job fighting for justice and repeatedly faced political injustice while fighting for civil liberties.
That is just but a small fraction of the attributes of the late nationalist Masinde Muliro, pioneer independence and liberation hero. Born on June 30, 1922, Muliro collapsed and died at the Jomo Kenyatta International Airport (JKIA) on August 14, 1992 fighting for the second liberation.
So when distinguished scholars meet tomorrow at the Masinde Muliro University of Science and Technology to speak about the life and times of the man the institution is named after, it will be a long delayed tribute to a hero who spend his life fighting for a just cause - an equitable, enlightened and free Kenya.
This event and a memorial on Wednesday at his home in Sibanga have been organised by his family and 14 sub-committees.
Former Minister Musikari Kombo, a great admirer of Muliro's brand of politics, had to contend with his strict rules after he was ordered to kneel at the dais with friends from the University of Nairobi when they decided they were ripe enough to attend a leaders meeting Muliro had convened in Western. "We received a rude shock, but I was humbled when he visited us at the halls of residence a few weeks later and engaged us in a candid discussion over his action and politics at the time," says Kombo.
Speakers at the lecture will not only extol his virtues but also encourage students at the university and young minds from the region to practice his anti-corruption morals as well as embrace reason and principle as a means to an end.
Operation freedom
As early as 1958, Muliro and seven of his colleagues travelled to London to agitate for the release of Jomo Kenyatta and five others. Elected to the Legislative Council (LegCo) in March 1957 with seven others, they launched "Operation Freedom" as they fought for freedom of assembly and national political parties.
Together with Daniel arap Moi (Rift Valley), Tom Mboya (Nairobi), Bernard Mate (Central), Ronald Ngala (Coast), James Nzau Muimi (Eastern), Lawrence Oguda (Nyanza) and Oginga Odinga (Nyanza Central), they championed "undiluted democracy" and demanded constitutional changes as well as an end to discrimination.
They also demanded for more seats, arguing that their constituencies were too big for effective representation in the LegCo.
Muliro went back to Western Kenya and held rallies across the region, explaining that they should not accept piecemeal changes to the constitution, but those that would bring about full independence.
In 1958, the number of African representatives had increased to 14 and that is when the Kenya National Party (KNP) was formed with Muliro as president. He had the backing of Ronald Ngala and the two Kalenjin representatives, Daniel arap Moi and newly elected Taaita arap Toweet.
After his death, the Independent of London wrote an obituary on August 29, 1992 detailing how he had emerged as the man who could have saved opposition party, Forum for Restoration of Democracy (Ford) from disintegrating.
According to the paper, the highest level of Kenyan politics often resembled a game of poker played by some of the most astute minds in Africa.
It described how a fascinating struggle for the leadership of Kenya's main opposition party, Ford had held the Kenyan masses in thrall and as the rivalry for leadership and, by implication, the national presidency intensified, the sophisticated dealings gave way to a naked lust for power among the country's major opposition figures.
Realistic chance
"Ford, the only organisation that has a realistic chance of wresting control of the government from the ruling party, Kanu, was on the verge of disintegration when the veteran nationalist Masinde Muliro startled everyone by declaring his intention of entering the presidential race," the newspaper wrote.
The leadership struggle finally broke the party, with Odinga's Ford-Kenya remaining at Agip House and Matiba's Ford Asili moving to Muthithi House. Although Muliro had not aligned himself to the Odinga faction, he was of the view that reason would prevail and the two sides would agree to work together.
Prof Simiyu Wandiba, writes in his book Masinde Muliro – Maker of Kenya's History that he did not even want his declaration as a candidate to interfere with his commitment to a united Ford and stood out as a honest broker between the two bitterly divided factions.
While The Independent said his candidature had an immediate and sobering effect on the opposition front-runners, Odinga and Matiba had also galvanised a surge of public support for this professorial, and highly idealistic politician who had never relinquished public respect since his entry into politics some 35 years earlier.
Muliro fought for and won a seat in the first ever direct African elections to the colonial Legislative Council in 1957. The pipe-smoking former lecturer, always wearing a trademark flat cap, often found himself clashing with some of his colleagues on the council.
It appears Mboya, who held him with a lot of respect, was also very suspicious over his ambitions and unwavering push for devolution and therefore joined hands with Odinga and their Mt Kenya region allies to oppose him.
Mboya wrote in his book Freedom and After: "Apart from Muliro, very few Kenya African Democratic Union (Kadu) politicians are convinced regionalists – the other are tribal leaders – I do not see regionalism setting a pattern for other parts of Africa".
Devolution Cabinet Secretary Eugene Wamalwa argues that had Muliro's vision been sustained and regional governments retained, the fruits Kenyans are reaping from the 2010 constitution could have been seen 60 times over had devolution been embraced from independence.
In 1960, the two largest ethnic groups in Kenya at the time, the Luo and the Kikuyu, formed Kanu as the political instrument that would take the country into independence. Muliro (who came from the third largest ethnic group, the Luhya), Ngala, from the coast and Rift Valley's Moi formed Kadu to represent the interests of the smaller ethnic groups in the push for devolution.
Although Kadu was defeated in the 1961 elections, Muliro retained his seat and was made Minister for Commerce, Industry and Communications in a joint government. In 1963, Kanu, now under the leadership of Kenyatta who had been released from detention in 1962, defeated Kadu.
The following year, Kadu was dissolved and former members of the party, including Muliro, crossed the floor to join Kanu and was later to be appointed Minister for Cooperatives.
At this point, Muliro, who had acquired a reputation as an intellectual and a formidable debater, appeared to lose his appetite for political in-fighting and instead turned to commerce.
He became chairman of several parastatal marketing boards and developed his own farming and transport interests. Nevertheless, he remained the undisputed leader of the Luhya community and always spoke out, succinctly and often devastatingly, against injustice and corruption from the parliamentary backbenches.
Muliro had carved out a unique position for himself in the country's political landscape. While he was regarded as a non-conformist by the government, there was no doubt about his sincerity or idealism. In Parliament, the force of his logic during debates made him an outstanding champion of causes which might otherwise have been lost.
In 1969, he was appointed Minister for Co-operatives and Social Services but his penchant for standing up for his principles brought him into direct confrontation with the Government.
When the Government tabled a Motion to proscribe Odinga's Kenya People's Union (KPU) after Kenyatta was stoned during a political rally in Kisumu, Muliro was the only member of the ruling party to oppose the Motion.
He said that while he found the incident abhorrent, banning the opposition party would make Kenya the laughing stock of Africa. KPU was eventually banned and Kenya became a de facto one-party State.
In 1974, Muliro won the Kitale East parliamentary seat and was appointed Minister for Works by President Kenyatta. But in 1975, and true to his character, he was the only minister to vote against the Government over a report by Kimilli MP Elijah Mwangale into the murder of a popular politician JM Kariuki.
His vote swung the balance and the Government lost the Motion and for his pains, he was dismissed from his ministerial post. He was never to regain any position in government.
Muliro continued to speak out against some government policies from the backbenches but preferred to do so from within the party, as the provincial administration was used to frustrate him.
There were several attempts to unseat him, through alleged mass vote rigging masterminded by District Commissioners in Trans Nzoia, but he successfully petitioned one election result through the courts and regained his place in Parliament.
Rigged elections
From 1986 onward, now under Moi's presidency, Muliro's criticism of the Government and the ruling party increased as he accused the party of rigging elections.
He once said that the cult of sycophancy being encouraged in Parliament was turning it into a 'rubber stamp' for the executive. According to The Independent, the purpose of Muliro's brief visit to London before he died was to persuade the Foreign Office to keep faith with Ford.
He also met a delegation from the UK branch of Ford who expressed their dismay at the personality clashes within the opposition group and told them categorically that he was willing to relinquish his bid for the presidency if that would enhance party unity.
The chairman of UK Ford, Joseph Gitari, who probably held the last formal discussion with Muliro, said that he, more than any other politician, had emphasised the defence of human rights above other political considerations.
"What he wanted above all," said Gitari, "was the restoration of true democracy and he told us quite emphatically that his, or anyone else's, personal ambitions mattered not the least in the interests of the national good."