14 Burkina Faso party leaders in Kenya to benchmark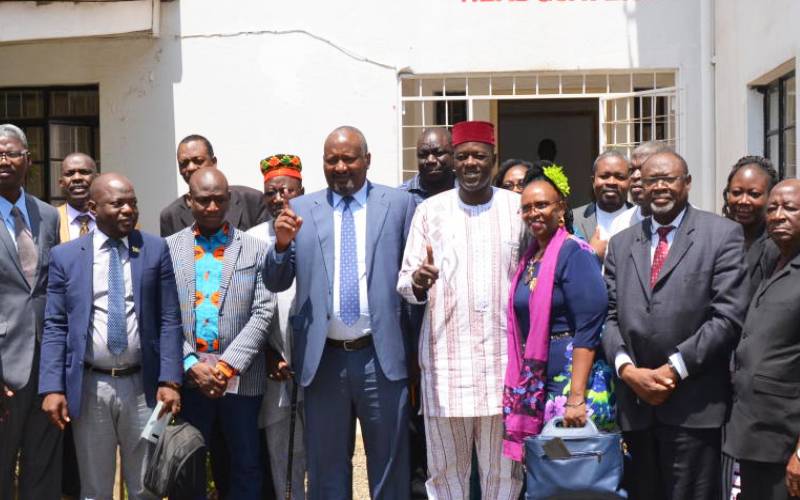 Kanu has hosted representatives of 14 political parties from Burkina Faso, who are in the country to benchmark.
The delegation comprising party leaders is in the country to learn about political party structures, their preparations for the 2022 elections, the referendum push and election management.
Burkina Faso is also set to hold its general election in 2022, and the delegation picked Kenya to enlighten itself.
Kanu Secretary General Nick Salat said the delegation visited them to learn how Kenya's oldest political party had progressed and its preparations for the 2022 General Election.
"And since Kenya and Burkina Faso will be holding elections at the same time, they also want to know what steps Kanu has taken to prepare itself for the upcoming 2022 election," said Mr Salat.
As part of preparations, Salat said, women and youth leagues were in place and Kanu was also launching a national registration drive to recruit new members.
On the referendum, Salat said Kanu was fully behind the Building Bridges Initiative (BBI) formed last year as a result of the political truce - handshake - between President Uhuru Kenyatta and Opposition leader Raila Odinga.
He added that Kanu's relationship with the Independent Electoral Boundaries Commission (IEBC) was in "shambles".
"We told them that our relationship with IEBC right now is in shambles and that this is part of the reforms we want BBI to address," said Salat.
He said Kanu's failure to field a presidential candidate was one of the major lessons picked by the Burkina Faso delegation.
"Not fielding a candidate in the last three elections...has really affected our performance, and we plan not to repeat that mistake," said Salat.
Gilbert Noël Ouèdraogo, chairman and board director of the Multiparty Dialogue Framework in Burkina Faso, said the delegation was in the country for five days to share experiences with political parties.
They have so far met ODM, Narc-Kenya, Kanu, IEBC and will today meet the Registrar of Political Parties.
"Dialogue is important for stability of a country. Due to it, the Kenyan Opposition can now discuss issues with those in power," said Ouèdraogo.