Kenya and Hungary in deal for closer relations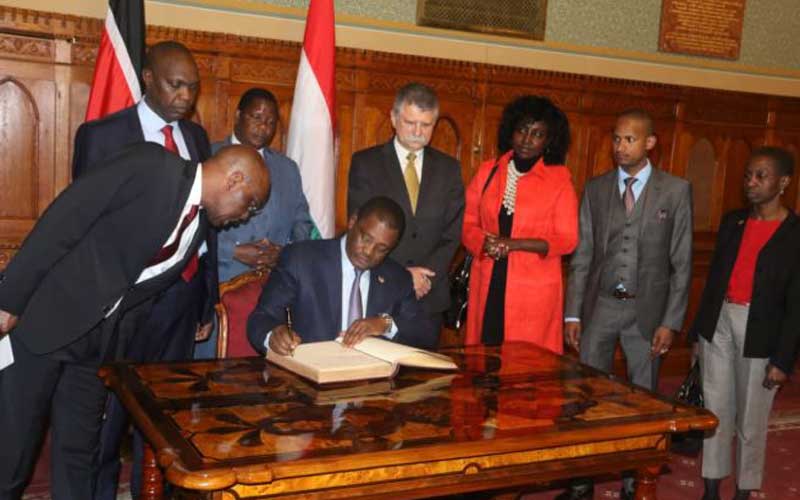 The Speaker of the National Assembly of Hungary László Kövér has invited Kenya to strongly consider opening an embassy in Budapest, Hungary, as an entry point to serve Kenya's interest in East and Central Europe.
His call comes amid flourishing relations between Bucharest and Nairobi, which have gained momentum in the last few months, culminating to yesterday's state visit by Speaker of the National Assembly Justin Muturi.
This cooperation has further paved the way for 100 annual scholarships for Kenyan students.
Speaking when he received Speaker Muturi at the Parliament Building, Speaker László said Hungary was honoured by the visit given that Muturi is the first Kenyan Speaker to visit Hungary.
He underscored the place of Parliamentary Diplomacy in enriching bilateral relations in the modern world, saying their respective legislatures are key agencies in the cultivation of closer ties.
He termed the visit as an important milestone in strengthening the Kenya-Hungary relations.
"This visit is a historic one. We are happy that our relations have flourished over the last months. We are keen on cultivating deeper relations with our friends in Africa, key among them Kenya," he said.
On his part, Muturi thanked him for the invitation and the grand reception extended to his delegation. He expressed Kenya's interest in engaging Budapest and in improving the trade between the two countries.
"We are happy to be here and grateful for your great reception. Our visit now marks the commencement of the engagement we envisage between our legislatures."
Muturi further invited Kövér to attend the National Prayer Breakfast in May.
The delegation was later taken for a tour of the National Assembly the most visited public institution in Hungary, attracting 700,000 tourists each year.
The two sides further sought to understand each other's structure of government and the effect it has on services.
Muturi is on a four-day visit to Budapest on the invitation of Kövér. He is expected to meet the Hungarian President, the Deputy Prime Minister and the Minister of Foreign Affairs during this visit.
The Speaker was with Jeremiah Kioni, Robert Pukose, Gladys Boss Shollei, Paul Ongili and the Clerk of the National Assembly Michael Sialai.