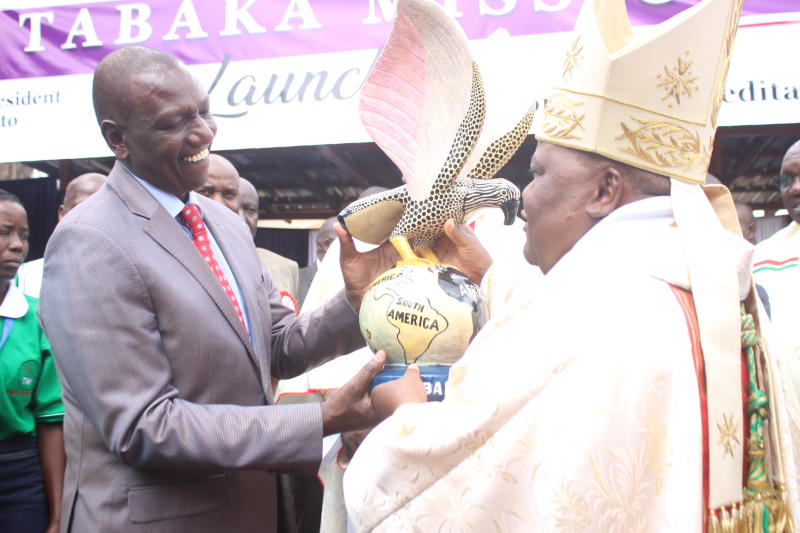 Deputy President William Ruto has alleged a scheme to kill the Jubilee Party.
In an apparent reference to ODM leader Raila Odinga, Ruto claimed his opponents had mastered the art of ruining political partiesto achieve selfish ends. Speaking at Tabakaa Mission Hospital in Kisii yesterday, Ruto said some leaders thrive whenever the country is in political crises.
"Some of these people trying to destabilise Jubilee are known for killing other political parties in the past. We will not allow anyone to destabilise the ruling party," he said.
He added: "If someone broke Kanu, Narc and CORD, that person is definitely now out to break Jubilee. I would like to ask our members to be careful and ensure this does not happen."
Ruto told his critics to focus their energies on empowering the youth and working for the people. "We must respect the will of the people and stop pretending that only a few of us got answers on who should be the next President. Nobody will break our spirit of uniting the country," he added.
The opposition has in the past accused the DP of being against the renewed fight against corrruption and focusing too much on 2022 politics.
Yesterday, Ruto said the government had set aside Sh600 million for Kisii County in the Cash Transfer Programme for vulnerable groups.
"This is a nation that is considerate and will not abandon the poor, elderly and the rich. All of us will at one time get old and nobody wants to be mistreated." He said the Sh6 billion Bonyunyu Dam in Nyamira was on course.
On technical education, the DP said every constituency in Kisii will receive a new or additional training centers. "We must equip out youth with proper technical education. This is the only way to achieve Vision 2030."
Area MP Silvanus Osoro called on government agencies not to politicise the war against graft. He also warned against what he referred to as retrogressive politics.
He said there was no way the DP can be perceived to be an enemy of progress yet they were elected together with President Kenyatta to work in harmony for the sake of Kenyans.