Bridges: Election violence and lack of values worry Kenyans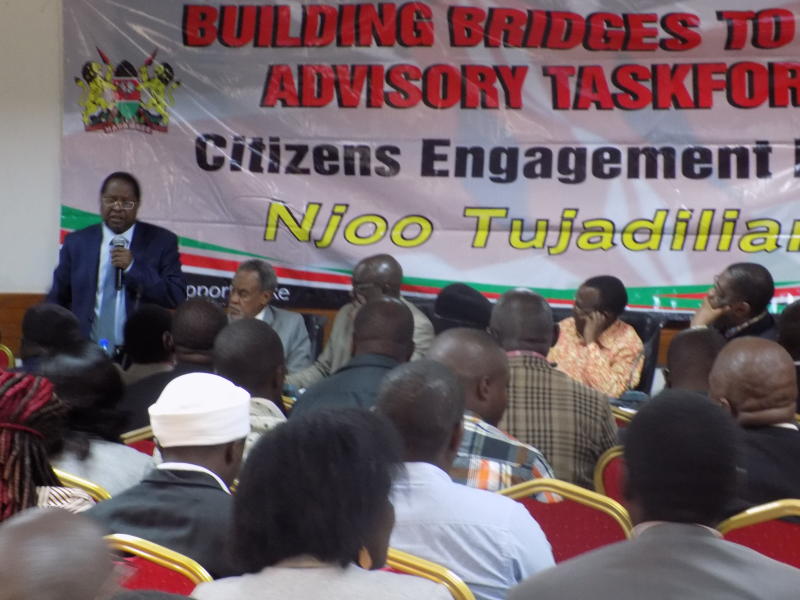 Majority of Kenyans are worried that violence in every election has been ingrained in the national pysche and that the current generation of youth and children are growing in a country without proper values.
In candid talks with the 14-member Building Bridges Initiative (BBI) Taskforce at public forums, citizens also talk "passionately" about the need to enhance devolution and call for an intensified fight on corruption.
In an interview with Sunday Standard, BBI's Joint Secretary Paul Mwangi has described their forums across the country as emotive and eye-opening, with thousands of Kenyans coming out to open up on issues that were dear to them.
"Kenyans are opening up in a way that shows they have wanted an opportunity to ventilate on issues affecting them. We are overwhelmed by their candidness," Mwangi said.
Most of those who made oral presentations, Mwangi said, felt that the country's future would not be better if a generation of young people was growing without a culture of integrity.
"They feel that as a country, we must begin to mould our young people to grow up as responsible citizens who have virtues and be respectable people," he said.
The taskforce has been holding public hearings across the country, collecting citizens' views on the nine-point communique unveiled by President Uhuru Kenyatta and Opposition leader Raila Odinga during the March 9, 2018 handshake.
The team's names were gazetted in May last year and since then, members have been moving to the people to seek their views on how to implement BBI agenda.
Midnight oil
Mwangi said they are burning the midnight oil to cover the country and possibly present their report by April.
Already, the taskforce has covered 12 counties and expects to cover the remaining ones before they present their report by May when their mandate ends.
In their trips around the country, Mwangi said, one of the biggest issues Kenyans have raised is graft, which they say denies them better services.
"Kenyans are angry about corruption and everywhere you go, they feel agitated and want to see the vice rooted out. The anger is palpable," said Mwangi.
Another major concern, Mwangi said, is elections and their disruptive nature in the country.
He said people feel the country could go back to violence again and again, noting that the winner-takes-it-all politics was not good for the country.
Most of those who have presented their views, he said, suggested that an expanded executive at the apex of the country would be a solution because Kenyans would feel included in the sharing of the national cake.
The creation of the position of a Prime Minister with two deputies and a Cabinet that is picked from Members of Parliament has repeatedly come up in numerous proposals during the taskforce's public hearings.
Last week, Gatundu South MP Moses Kuria, Office of the Auditor General and Kenya National Union of Teachers (Knut), in separate presentations, claimed the premier position would end a vicious circle of bloody elections.
Both Auditor General Edward Ouko and Knut Secretary General Wilson Sossion concurred that for a stable country, proposal to amend the law to expand the executive should be considered.
The team is tasked with coming up with practical recommendations and reform proposals that will build lasting unity.
Mwangi, who is joint secretaries of the taskforce with Ambassador Martin Kimani, said devolution was at the heart of Kenyans and any proposal to tamper with it is unwelcome.