Elders vow to unite region, dismiss rivalry between Maragoli and Bukusu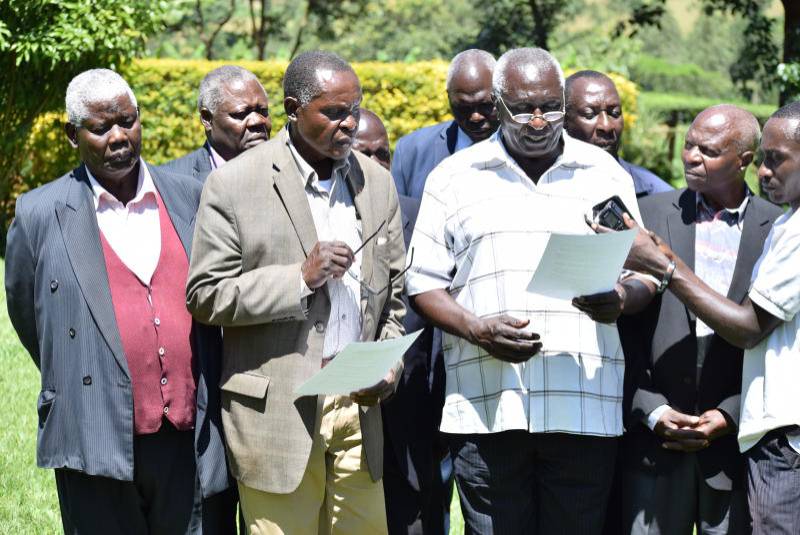 Elders from the Maragoli and Bukusu sub-tribes have vowed to unite the Luhya community.
They dismissed claims that the rivalry between the two sub-tribes had led to prolonged disunity in the region.
"We have deliberated and are here to dispel the myths of Maragoli and Bukusu rivalry that has been created and popularised by outsiders as the stumbling block to Luhya unity," said Richard Walukano, the chairman of the Bukusu Council of Elders.
He added: "Over the years, outsiders have used misunderstanding among the Quaker Church leadership to promote perceived division between the Maragoli and Bukusu communities. We hereby affirm that this has been hearsay and poison served to our people, which we hereby abhor."
The elders addressed journalists yesterday at Mbale town after a consultative meeting during which they affirmed that the mantle of the 'Mulembe Nation' was in the hands of Musalia Mudavadi, Eugene Wamalwa and Moses Wetang'ula, whom they said they would support to unite the region.
"We have acknowledged efforts by Mr Mudavadi, Mr Wamalwa and Mr Wetang'ula and other leaders to bring the community together. We, however, have told them that between them there must be a first among equals to lead the quest for national leadership campaigns to all parts of Kenya," Alfred Lulu, a member of the Maragoli Council of Elders, said.
The elders expressed disappointment that some politicians from the region were out to sabotage and scuttle efforts by the leaders to unite the community.
"We therefore condemn the politicians working against the interests of the region by joining hands with leaders out to scuttle the unity agenda for their selfish political gains. We are asking such politicians, who are known to everyone, to come back to the fold of regional interests," Mr Lulu said.
The elders asked the area's governors and senators to play a key role in the regional unity agenda because they had resources at their disposal that could be used on programmes that could bring together the region and boost it economically. They expressed concern about the economy, which they said had been battered due to the collapse of sugar factories and the Webuye Pan Paper Mills, as well as poor earnings from maize.
"We urge voters to only support politicians with an economic agenda to salvage the region's economy. We have declared that any leader who undermines or colludes with saboteurs of the mainstay of the region's economy is the enemy of the community and should be disowned," Lulu said.