Ngilu rekindles 'stolen victory' fiasco, tells Uhuru-Raila team to address the matter expeditiously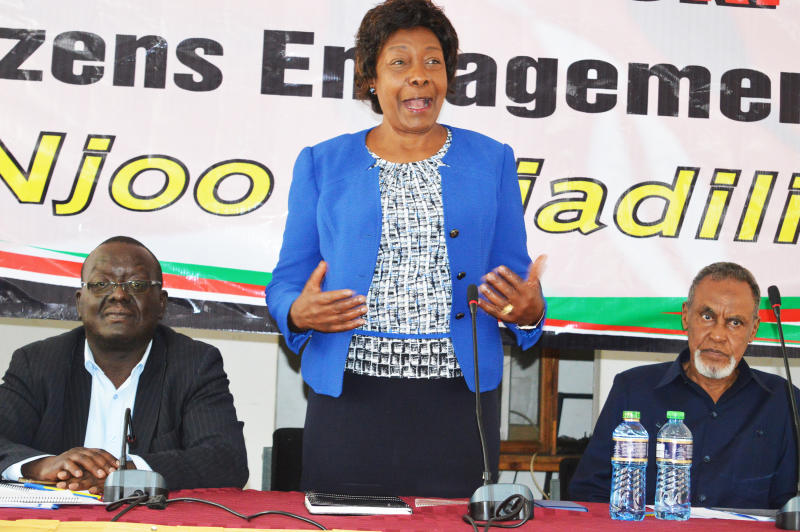 A task force steering national dialogue has been asked to address the root cause of 'stolen victories' in elections.
Kitui Governor Charity Ngilu yesterday said that unless the Building Bridges initiative team got to the bottom of who, what and how the last three elections were conducted, it would be an effort in futility to tell Kenyans they were building a peaceful and cohesive nation ahead of the 2022 polls.
Speaking at the Kitui's Multipurpose Training Institute yesterday, the governor told the task force chairman, Senator Mohamed Yusuf Haji (Garissa), Busia Senator Amos Wako, Ambassador Stephen Karau, Bishop Lawi Imathiu, Prof Saeed Mwanguni and Secretary Paul Mwangi that she wanted to see a task force that was impartial and not playing public relations for certain individuals or the Government.
"I am looking for a responsive task force that will tell and expose what exactly happened in 2007, 2012 and the last year's general elections that left Kenyans divided along tribal lines. It is time for this country to heal and have people regarding each other with dignity without the tribal tag," said Mrs Ngilu.
She said for the country to heal from the mistrust and suspicion brought about by the past elections, there was a need to address and unveil the untold story about what many Kenyans think and speculate on who won and who lost in the previous elections.
"Let us address the causes and not symptoms of the problems of the past elections and disparity in resource allocations to counties. Some counties like Kitui cover a huge area while others are small in size. This is one of the disparities that causes misunderstanding," the governor said.
Ngilu said the country was bleeding and at a crossroads after past elections in which the electorate felt cheated because of a fraudulent electoral process.
"Kenyans need to heal and move forward to face the challenges ahead. As a country, we cannot be doing the same things, the same way in all the election years. We must say no to bloodshed."
Ngilu said peace was not tenable in circumstances of injustice and suffering.
The governor said it was a sad story that in the past, Kenyans have fought because of a non-inclusive electoral process where the winner takes it all, leaving minority communities politically ruined.
In response, Mr Haji said the team took Ngilu's concerns seriously and that the task force would ensure it adhered to its mandate.
The chairman said the task force was formed after the handshake between President Uhuru Kenyatta and Opposition leader Raila Odinga in March.
Mr Wako said the task force would neither be used as a rubber stamp for the authourities nor be a public relations outfit.