You betrayed me! Chiloba tells Chebukati as IEBC row boils over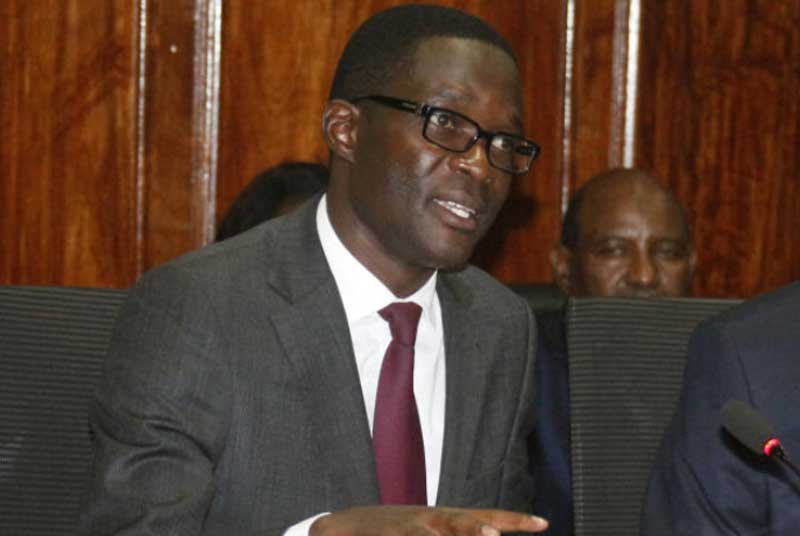 Sacked electoral commission CEO Ezra Chiloba has spilled the beans on how chairman Wafula Chebukati betrayed him despite pulling all the stops to "satisfy" his deep sense of mistrust.
A secret memo from Mr Chiloba to Mr Chebukati obtained by the Sunday Standard reeks of a deeply hurt son's complaint to an indifferent father, a son who bayed for trust but never got a taste of it.
Chebukati booted Chiloba from the commission on Thursday after months of an ugly face-off triggered by a post-election audit that appeared to target the latter.
"You expected much from us but at the same time never trusted anyone. I went out of my way to support you but that could not satisfy you. On the election night, I tried to stand by you even when others had abandoned you, but that could not satisfy you," the sacked CEO wrote.
The communication further discloses: "I took the political blows on your behalf but from the look of things, you were never satisfied."
Chiloba says that even when he knew the memos questioning the conduct of the August presidential election were leaked with the knowledge of Chebukati, he publicly protected the chairman, but still he was never satisfied.
"The bottom-line is that because of the mistrust, you are now pegging your own survival on painting the secretariat and CEO/CS in bad light. This should never have been the case if we faced the real problem at the commission," Chiloba says.
In the communication, the sacked CEO asks six open-ended questions which when read between-the-lines could open a Pandora's box at the commission.
The questions relate to commissioners' involvement in tendering.
"When commissioners constitute themselves into an evaluation or negotiation committee contrary to the law, how were we to deal with such?"
"When commissioners go out of their way to establish cost of goods and services even before bids are floated, how were we to deal with such?"
Cancels a tender
"When the Commission cancels a tender without due process, how were we to deal with such?
"When the Secretariat is told to procure items from a certain company without benefit of technical review by management, how were we to deal with such?"
"When a chairman or a commissioner seeks to influence the award of tenders to particular companies without full disclosure, how are we to deal with such?"
"When the chairman recruits consultants without due process, how were to deal with such?"
In yet another letter to Chebukati dated September 18, Chiloba disputes all the nine allegations leveled against him regarding the internal audit, insisting on access to plenary minutes to put up proper defenses.
They includes accusations made against him in regard to award of election tenders.
"There is no doubt that most of these issues cannot be responded to adequately without access to documents, officers at the different stages of procurement and supplies chain (some in the field).
"Most of the issues are very operational in nature and as the CEO, I need to get an explanation from officers," he says.
He turns around the faults established on tenders by the internal audit to the commission.
Chiloba says it was always clear that procurement had been a priority area for Chebukati's team when it came into office in January 2017.
"The question we should also be asking ourselves is whether or not decisions taken by the commissioners on procurement matters contributed to some of the observations made by the audit," he asks.
Yesterday, IEBC formally announced Chiloba's exit with effect from October 12. A commission statement said he was found culpable for charges which arose from the internal audit report on major procurement during the 2017 general election.