Candidates make final dash for votes ahead of poll D-Day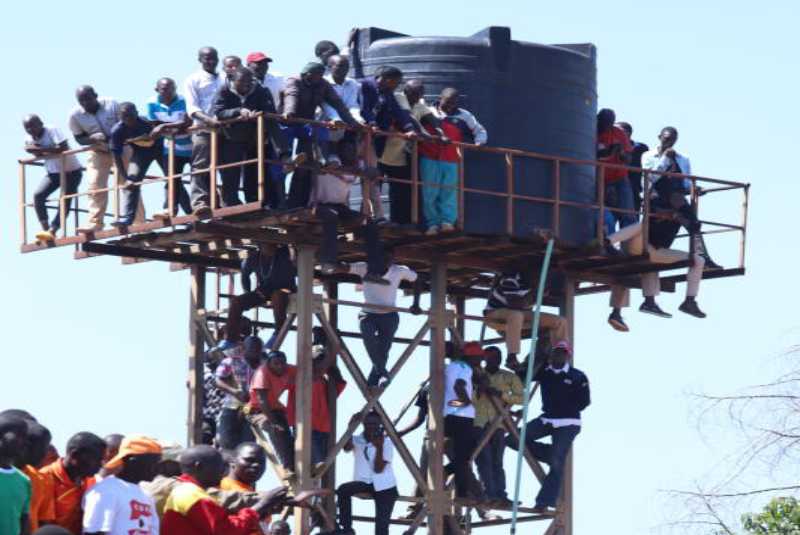 The five candidates battling for the Migori Senate seat make their final dash for votes today, when the campaign window closes ahead of the by-election slated for next Monday.
Security was tightened yesterday as the candidates traversed the expansive county with last-minute rallies, even as others opted for door-to-door campaigns.
Raila rallies support
Businessman Eddy Oketch of Federal Party of Kenya and ODM's Ochillo Ayacko, perceived to be the front runners, were yesterday busy as Opposition leader Raila Odinga arrived in Migori to wrap up the campaigns for Ayacko.
Raila led a large delegation of ODM governors, MPs, senators, speakers of assemblies and deputy governors in whistle-stop campaigns across Migori even as Mr Oketch engaged in an air and ground campaign that took him deep into the villages.
Party of the moment
Speaking at various stop-overs, Raila said ODM was still the party of the moment in Kenya and told voters in Migori not to be swayed by other political parties.
He defended the party's decision to give Mr Ayacko direct nomination, saying it was meant to save time and avert conflicts that had been witnessed in past primaries.
Raila will continue campaigning for Ayacko today.
The other candidates, Samwel Otieno, Dickson Ogolla (both on Independent tickets) and Peter Jobando (Green Congress party) were also busy campaigning yesterday.
As the ODM team campaigned across the vast county, Oketch vowed to deliver a surprise, saying many voters had promised to vote for him.
A changed Migori
"I am surprised at the sudden change of things. Migori has changed dramatically and I am sure of beating the ODM candidate," he said.
He denied claims by ODM officials that his campaign was funded by Deputy President William Ruto.
"These are wild allegations. I am being helped by my friends locally and abroad and not anyone else."
This was in apparent response to Mombasa governor Hassan Joho, who had dared him to explain the source of his campaign funds. Joho, while drumming up support for Ayacko, had questioned the source of Oketch's funding.
Oketch has been running a well-oiled campaign, traversing parts of the county with a chartered helicopter.
Oketch said he was bitter with ODM for denying him the party ticket through a consensus democracy.
He said he defied Raila's appeal that he backs Ayacko because he (Oketch) had followers. Oketch was among those who attended a Press conference in Nairobi called by Raila to back Ayacko.
Oketch said he was happy that many people were uniting against him. This, he said, meant he was a force to reckon with.
He vowed to prove political critics wrong, even as he faced a formidable force — ODM.
On Wednesday, Green Congress party leader Martin Ogindo held door-to-door campaigns for its Senate candidate Peter Jobando in Migori town and its environs.
Good leader
Ogindo, a former Rangwe MP, said the Senate seat did not belong to any particular political party and urged voters to vote for Mr Jobando.
Ogindo said it was only through democracy that the people of Migori could find a better chance of electing a good leader.
"We need the people to fight for their rights because a free society always develops when democracy prevails," she said
Jobando accused ODM of imposing Ayacko on the people, saying party inadequacies should not hinder one from achieving their ambitions.
"I am a life member of ODM, but I decamped to GCP because the party (ODM) did not give the people space to elect a leader," he said.
Industries to get cheaper power
The cost of power to large industrial consumers is yet to come down following the lack of clarity from the government's initiative to cut costs by hal