Uhuru's rebirth: Why President has to end graft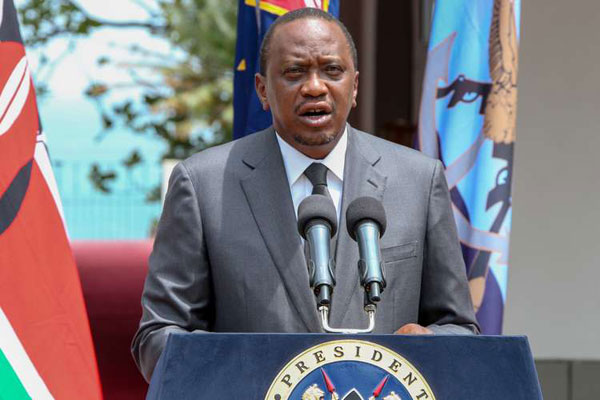 Like a man who has finally broken the shackles and reclaimed his freedom, President Uhuru Kenyatta has astounded his closest friends and family on his newly found commitment to fight corruption.
His newest approach rekindles memories of an episode in his boyhood when during a family excursion in Nakuru, he watched as his younger brother Muhoho surrender his fate to a street conjurer.
The street magician wanted to demonstrate his magic by slicing through a carton, in which Muhoho wanted to dive into, with sharp daggers.
Horrified minders among them Jomo Kenyatta's social secretary Elizabeth Mumbi Madoka had to restrain Muhoho before he surrendered to the conjurer's hands, just like they had done to Uhuru earlier when he attempted to take control of a car in his eagerness to drive but was entangled in the steering wheel.
During his first term as President, Uhuru, who had been socialised and trained to be in the driver's seat, was living in "captivity' like the one his father lived through, guarded by heavily armed men like the ones who had captured and confined him detention for nine years. President Kenyatta's recent actions against the lords of graft, suggest the rebirth of a man who now says he is ready to sacrifice even his brother and close friends in his bid to slay the dragon of corruption.
As soon as Uhuru was sworn in for his second term, Jubilee Party Vice Chairman David Murathe warned Kenyans to expect a more ruthless and assertive President.
Now, Murathe is telling Kenyans to expect more in coming weeks and months: "Remember he swore, in God's name, that corruption will end".
According to Murathe, the President has to clean house because "no one else can and his legacy will be in tatters".
United country
"His legacy is to leave behind a united country. He cannot do that without the Building Bridges initiative, inclusion of all the communities, discipline, law and order and the fight against corruption," said the Jubilee vice chairman.
According to National Assembly Leader of Majority Leader Adan Duale, the President made a name by mapping the country's foreign policy, which has seen him host a sitting US President and invited to the White House himself.
Duale said Uhuru wants to be remembered as the President who corrected impunity and corruption.
"Now serving in his last term, Uhuru cannot be a victim of political machinations and has seen an opportunity to shock the political elite by destroying the kingdom of impunity and corruption," said the Garissa Township MP.
"The situation is far much better than in his first term. That is why we support him and advise him to act within the law to fight corruption. If he does not eradicate it, he wil have no legacy. Corruption can wipe out his Big Four agenda," National Assembly Leader of Minority Junet Mohammed said.
When he was asked by the BBC's Hardtalk whether he wanted to include fighting graft as one of the pillars of his legacy, Uhuru asserted that he intended to slay corruption and that he had no problem if a lifestyle audit was extended to cover his father.
"I am committed to this fight. Cases are being taken to court. People who would never have appeared in court are now being called to account. It is now up to the Judiciary to expeditiously hear these cases so that we can end impunity," he said.
This is a sharp contract to the President who had on October 18, 2016 interrupted a State House Summit to bitterly complain of how his senior appointees had let him down.
"What is your problem? If there has been theft, tell us if it is Uhuru who stole. What do you want me to do? A lot of nonsense if I may say the least," Uhuru said then.
At the time, the President directly blamed the Ethics and Anti-Corruption Commission (EACC) boss Halakhe Waqo, Attorney General Githu Muigai, Director of Public Prosecution Keriako Tobiko, Auditor General Edward Ouko and the Judiciary for failing to prosecute corrupt individuals.
Crucial institutions
Some of these institutions have been crucial in the ongoing purge on graft. Earlier this year, while naming his new Cabinet, Uhuru brought in a new AG (Kihara Kariuki), DPP (Noordin Hajji) and Directorate of Criminal Investigations George Kinoti. When he expressed his helplessness in fighting corruption in 2016, Transparency International Executive Director Samuel Kimeu was outraged, reminding him that the buck stopped with the President.
"We demanded that the President must lead the fight against corruption from the front because the people he was accusing of not doing anything were his appointees and he had powers to deal with them. A lot was not happening," Kimeu said.
If the current momentum is sustained and the purge is not polilitised, Kimeu said, Kenya has a chance to entrench the rule of law.