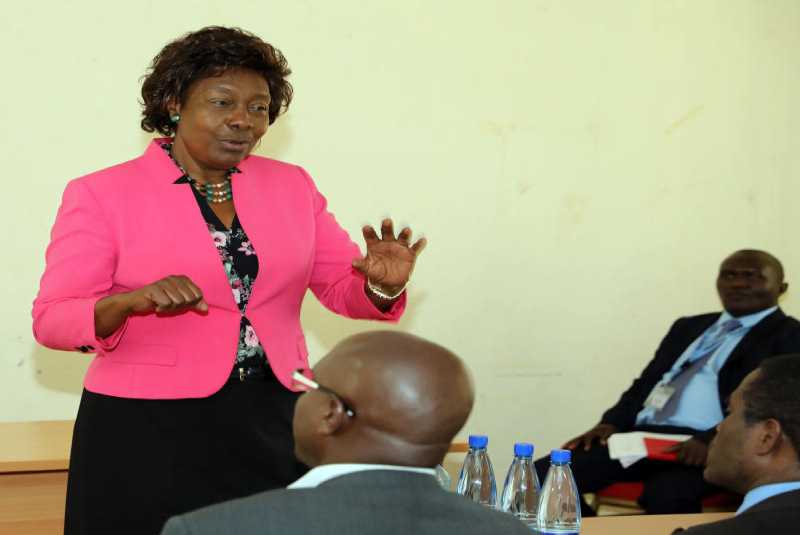 The governor has accused a politician in the county of inciting residents against her.
Charity Ngilu accused the politician, whom she did not name, of fuelling dissent against her green gram farming programme dubbed 'ndengu revolution' and other development plans.
Mrs Ngilu accused the politician of waging a vicious political fight against her by fuelling controversy in the region.
"Viongozi hawa ni wale rais mstaafu Kibaki (Mwai) aliwaita bure kabisa, hawana maana yoyote….(These kind of leaders were the ones retired President Kibaki (Mwai) used to dismiss as useless, worthless)," said Ngilu.
Read More
She spoke during the launch of the October-December rain season ploughing programme at a farm in Malondo village, Mutonguni ward, Kitui West.
Ngilu said she would not succumb to political blackmail from within and outside her administration aimed at derailing or slowing down her development initiatives.
Accompanied by chief officers James Mbii and Agnes Mulewa, the governor asked farmers in the county to form committees to help identify those to be given priority in the ploughing programme.
"While wealthier farmers can get tractor services from private owners, there is a need to help the poor achieve food security," she said.
In the programme, farmers will pay Sh1,000 to plough an acre. Private tractor owners charge Sh2,000.
Ngilu said her administration had purchased 10 tractors to strengthen the existing seven, adding that each sub-county would be allocated two tractors for the ploughing service ahead of the October-December rains.
The governor said funds had been set aside to purchase 40 more tractors to ensure farmers in all wards had access to modern ploughing services and break away from dependence on oxen-pulled ploughs.
Food security
She said water and food security were top priorities in her development manifesto, followed by healthcare, education and youth development, women empowerment and wealth creation.