Day the fly whisk slipped and the nation plunged into mourning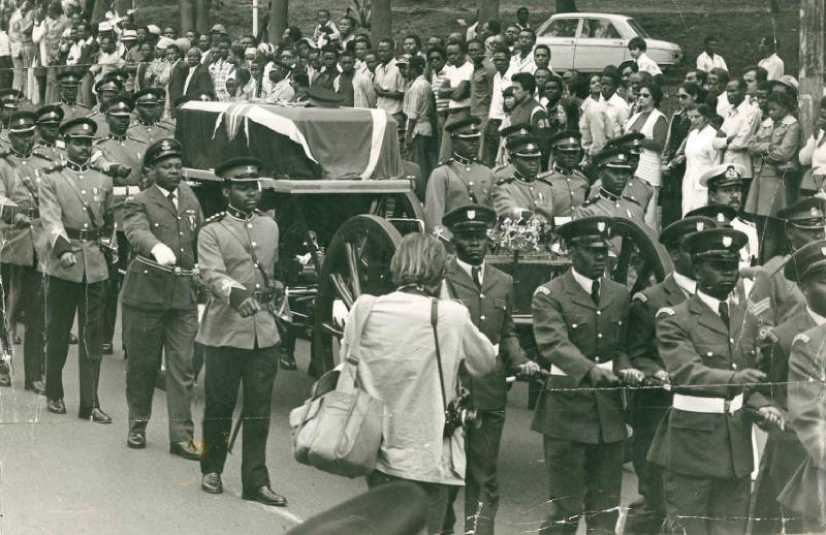 The nightmare started at exactly at 12.59pm on that fateful Tuesday when a radio announcer uttered the unthinkable words. The beaded fly whisk had faltered, and all flags had to flutter at half-mast. Heartbeats raced, the country's collective blood pressure soared.
As businesses and government offices hurriedly closed, streets emptied and Kenyans scurried home to contemplate what President Jomo Kenyatta's death portended.
The world too waited with baited breath to see what would happen.
But a group of singers fearfully congregated along Jogoo Road at St Stephen's ACK church. The group had been summoned by their director, Darius Mbela, who owing to his position as a Permanent Secretary, grasped the import of what the death of the head of state meant.
But even before the choir members flocked at the sanctuary, the indefatigable choir master made sure his assistants, Chris Sikuku and George Masumbuko, were by his side.
One of the founders of St Stephen's Church choir, Jeremiah Joseph Kimani, popularly known as JJ, relives the moments he received the call the following day on August 23 at 9am.
JJ, a father of four who is now 73 years old, says he was in the office when he was informed that his choir director was on the line and wanted to talk to him.
"JJ, as you know Mzee is no more. You are required at St Stephen's Church right away to come up with songs to mourn and comfort Kenyans," he recalls Mbela telling him.
After the call, he approached the sales manager for permission to go to Nairobi but this was denied by the boss who wondered when Metalbox workers became civil servants.
Thirty minutes later when Mbela called again to check whether JJ had left Thika, he was shocked to learn that the tenor singer-cum-composer had been denied permission. This led to an altercation, which left the shaken boss pleading with his junior salesman to leave the office immediately as he did not want anymore trouble with the government.
Grieving nation
When an amused JJ was finally driven to Jogoo Road by Mbela's personal driver, he found other choir members settling in. The choir had an estimated 150 members who, according to Mbela's instructions, were to start rehearsing patriotic songs and dirges to match the mood of the grieving nation.
They were also supposed to compose new songs, which would capture the country's grief and unite anxious Kenyans fearing what would happen next.
St Stephen's Choir, which had been started in 1956 by Prof George Senoga Zake, was no stranger in the public performance for it had on numerous occasions entertained Mzee Kenyatta during public functions.
The choirs had come to appreciate the songs Mzee Kenyatta loved by studying his face and body language during their performace. At times, Kenyatta's buddy Mbiyu Koinange would tip the choristers to play specific songs.
Some of the numbers Kenyatta never got tired of listening to were "Pokea Moyo Wangu" (Receive My Soul), a song introduced to St Stephen's by an organ player, Joseph Kitakwa, who had been recruited by Mbela.
Apparently, the President who was not known for attending church services was also very fond of another Kiswahili number, "Binguni Kuna Raha" (There is Joy in Heaven).
Ironically, as Kenyatta's body lay in state, the choir members would repeatedly sing these two songs just as they had done while the old man was alive, acknowledging each performance by a wave of his fly whisk.
But as dignitaries filed past Mzee's body to pay their last respects and sign the condolence book, the fly whisk was motionless and had been replaced by the national flag which was flustering at half-mast all over the country for a whole month.
Insatiable appetite
JJ and his colleagues are not the only Kenyans whose stage performances had been dictated by the wave of the fly whisk by Kenyatta who had insatiable appetite for songs and dances.
Some groups, like Nyakinyua traditional dancers, and some individuals had carved a career for themselves entertaining the President and had made a fortune.
But while large swathes of land to date bear the names of some of the dancers, one teacher, Mzee Enock Ondego, made a name from composing songs sang by school children during Mzee's visit in Mombasa.
Ondego, who was teaching in Samburu Primary School in Maji Ya Chumvi along Mombasa-Nairobi highway, says in The Life of Mzee Ondego, an autobiography that when the children sang "Wimbo wa Historia" in 1964, President Kenyatta shed tears.
And with that, Ondego became a permanent feature in the President's Coast entertainment programme. But unlike some entertainers, all he got was a promotion to a P1 teacher, and admonishment when for sometimes he ran away from Coast and the government to become a waiter in Maragoli.
So fond was Kenyatta of Ondego and his performance that he was the last performer to entertain the President before he died on August 21, 1978. But Ondego immediately faded away.
He says on that day Kenyatta demanded that the choir continues singing even after Ondego furtively tried to exit the stage after five songs. He also appeared restless for he had first gone to Tiwi where some choirs performed before he later moved to Mswambeni.
"After eight songs, he looked at Mahihu (Eliud, then Coast PC), and they surrounded him and took him to the toilet. It was during the 9th song that Mzee collapsed. He was surrounded immediately," recalls Ondego.
He says they were told to go home and a car would fetch them the next day but the car did not come for them for they later learnt that Mzee had died.
Back in Nairobi, St Stephen's Choir kicked off another marathon.
Shortly before the embalming of the President's body, the choir members would congregate at the church where they sang and were at times recorded by Voice Of Kenya (VOK), now Kenya Broadcasting Corporation (KBC), and relayed across the country.
Mbela had instructed the members to think of songs that would comfort the country because there was a lot of uncertainty.
"That night, Mbela called me at home. I had a telephone line in my house. He wanted to know whether I had come up with any lyrics. Fortunately, I had but I warned him I had done only two stanzas. When I sang them to him on the line, he was very excited. He told me to compose at least four stanzas," JJ says.
No time to rest
The following day Mbela, who was a reputable singer, song writer and director, polished JJ's composition, with some additions and suggestions from other members of the choir's music committee such as Sikuku.
This is how Wingu Jeusi, one of the most popular hits, was born. But there was no time for resting on their laurels. The songs they composed were recorded on the go, sometimes by Phillips and Andrew Crawford.
Last year, when President Uhuru Kenyatta went to St Stephen's ACK Church accompanied by his mother, Mama Ngina, and top government officials to mark the 39th anniversary of his father's passing away, he was surprised to learn that some of the members of the 1978 choir were around.
He was introduced to JJ and told that he was the composer of Wingu Jeusi, which President acknowledged as a great song.