Political wave, wrong choices deal blow to Coast kingpins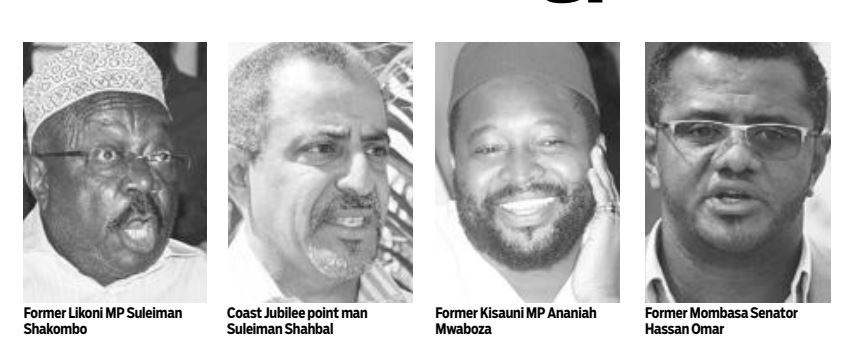 Political miscalculations have left a number of Coast politicians licking their wounds after either vying on unpopular parties or going against the political currents in the region.
Former Mombasa Senator Hassan Omar's decision to challenge his ally-turned-rival Hassan Ali Joho for the gubernatorial seat in August 8 General Election proved futile after he came a distant third.
The scale of Omar's fall lay in the fact that despite running on an opposition ticket-the Wiper Democratic Movement he was beaten to the tape by the Jubilee candidate Suleiman Shahbal in a region hostile to the ruling party.
For years the Joho camp succeeded in painting the former senator as a Jubilee mole within the opposition, a tag that appeared to cost him, dearly. Omar's case is not unique to him. There are many politicians in Coast who make mistakes at a crucial moment. These leaders attempt to swim against the dominant current and come out bruised.
Manipulated
Former Cabinet Minister Suleiman Shakombo, who now also finds himself without the political clout he once enjoyed, blames the situation on power barons for flashing cash and planting candidates at the Coast. Candidates who he says never bring any development to the region.
"We are victims of wealthy business people who have removed us and planted their stooges to ensure they are never questioned for the things they do. Politics of Coast has been manipulated and only politicians who sing to the tunes of power barons get elected these days," says Shakombo.
Mr Shakombo who was first locked out by Masoud Mwahima of ODM in 2007 after representing Likoni for two terms, said unless the dragon that hand picks leaders for the people is "slain" through awareness drives, Coast will continue to suffer poor representation and under development.
"This is the dilemma we are facing. Unless we come together as a region and kill the dragon that plants leaders for personal gain, we will continue to suffer poor representation," Shakombo says.
Former Kisauni MP Ananiah Mwaboza notes that although politics of money has locked out many veterans, the old timers have also fallen victim to vicious propaganda wars.
"It is sad that young voters hit by grinding poverty and unemployment prefer money and being entertained in campaigns to development agenda by serious politicians like us. This has undermined development of the county," Mr Mwaboza says.
In urban areas like Mombasa, he observes that many voters prefer big parties and hence dealt a blow to visionary politicians running on small Coast-based parties.
Immediate former Kaloleni MP Gunga Mwinga admits that at times politicians fail to read the mood of the people. For instance, he says the 2002 Narc wave, ODM's 2007, CORD's 2013 and NASA last year left in their wake casualties.
"To me all these waves were inclined to the opposition and did not bring much development to the Coast region although they smashed the political careers of many of us," the Devolution Party of Kenya national chairman Mwinga argues.
Mr Mwinga lost to Mr Paul Katana of ODM in last year's polls. He notes that small political parties in the Coast are overran by the big ones because they lack the financial muscle to mobilise voters and sponsor candidates campaigns.
Only Taveta MP Naomi Shaban has survived political storms in the region since the Kanu era.
Pwani University lecturer Halim Shauri observes that Coast politics has evolved too fast for the old guards, leaving them behind.
"Old politicians should transform themselves from analogue to digital politics where jobless youth have become so aggressive in the campaigns seeking financial gain. They even believe majority of the politicians have ill-gotten wealth and scramble for a share of it," Prof Shauri argues.
He observes that small political parties in the region have no money and some are briefcase entities run by individuals.
Coast has a history of alternative political parties that chart a different path from others considered mainstream like Shirikisho Party of Kenya, Chama cha Uzalendo, Kadu Asili and Devolution Party of Kenya which have been suffocated by the bigger parties.
Former Kilifi North MP Gideon Mung'aro who challenged Governor Amason Kingi was also a casualty of the political wave. Mr Mung'aro staged a rebellion in ODM before he decamped to Jubilee.
Others political losers are former Taita Taveta Senator Dan Mwazo, Kwale Women Representative Zainab Chidzuga, Kilifi South MP Mustafa Idd and Kinango MP Gonzi Rai of Jubilee, who at the height of their political careers, were some of the most vocal legislators in the region.
Mombasa Kanu kingpin the late Shariff Nassir and former Cabinet Minister Katana Ngala were swept by the Narc wave in 2002 while the ODM wave removed controversial Kwale politician Chirau Mwakwere from the political limelight in 2013 after he was beaten by Boy Juma in the senatorial contest.
Mr Mwakwere then vied on URP ticket affiliated to Deputy President William Ruto.
Nassir was edged out by then youthful politician and former Mombasa Mayor Najib Balala.
In turn, Mr Balala, now Tourism Cabinet Secretary, was locked out of politics in 2013 when he abandoned ODM and contested the Mombasa senatorial seat on Republican Congress Party of Kenya.