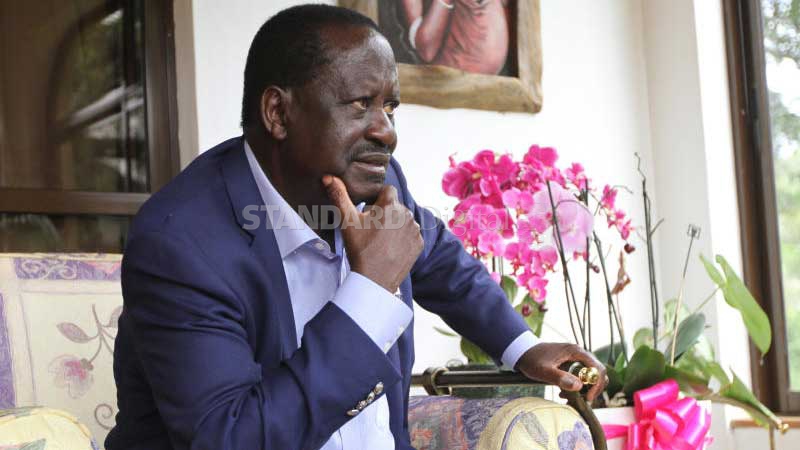 Former Prime Minister Raila Odinga has denied having a hand in a looming reshuffle of the Cabinet by President Uhuru Kenyatta.
Instead Raila described such reports as malicious, retrogressive and diversionary and meant to undermine the war on graft while failing to take cognizance of the interest of the Kenyan public.
Through his spokesman Dennis Onyango, Raila said that such reports are only an attempt to put the country back on the tired path of personalizing and politicizing the war on theft of public resources by public officers and private business people.
"The Building Bridges Initiative, has identified that path to have been the biggest impediment to Kenya's war on corruption as it enables crooks to hide under political parties, communities and behind individuals to get away with their loot," reads part of statement sent to newsrooms.
This is after a report in one of the dailies indicated that a major reshuffle that could affect a number of Cabinet and Principal Secretaries whose ministries have been adversely mentioned in corruption is on the cards.
Read More
President Uhuru Kenyatta in his recent tough talk, seems to put his foot down on runaway corruption, and set the tone for the legacy leg of his presidency.
Raila who has changed from a 'rebel' to a Statesman has also been vocal vowing to support Uhuru in the war on graft.
"Raila remains committed to aiding the war on corruption from a wide and common front so as to remove any sanctuary where perpetrators can seek refuge as spelt out in the Building Bridges to the New Kenyan Nation," reads part of the statement.
His lieutenant and National Assembly's Public Accounts Committee chairman Opiyo Wandayi said that there should be no cosmetic changes in the war on corruption.
"Reshuffling corrupt officers is simply to engage in a game of musical chairs. Any person associated with corruption, however remotely, should not even wait to be sacked but must take the earliest opportunity to vacate office," said Wandayi.
Kibwezi East lawmaker Jessica Mbalu on her part said that the Cabinet Secretaries whose Ministries have been riddled with corruption should stay in office until they reveal what transpired during their watch.
Mbalu also explained that those who served as CSs or PS at the time the alleged theft of funds took place, should also be investigated.
"I don't support any reshuffle now. Let us get the culprits first and its only the Ministry's chiefs that will give us more details on the suspects under their watch," said Mbalu.