Female legislators ready for irreducible minimum in two thirds bill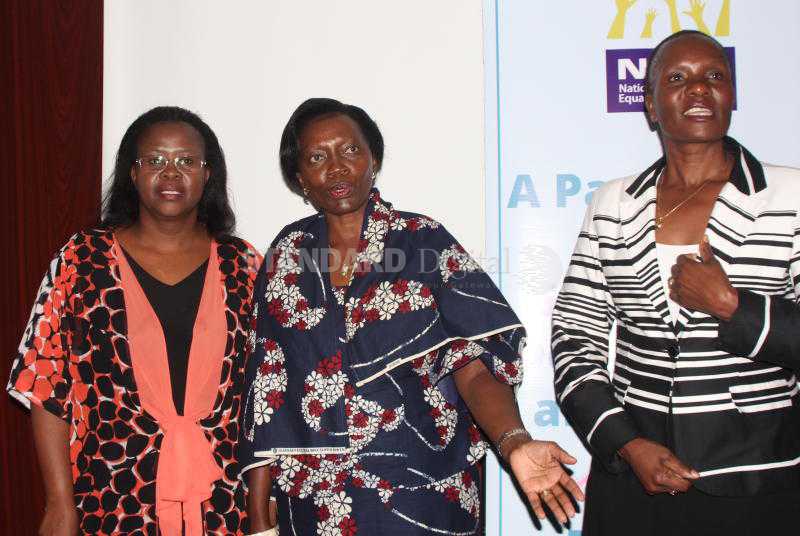 Female MPs will turn to the President for help to ensure passage in Parliament of a bill to that aims to ensure gender balance in leadership.
At a meeting between Public Service, Youth and Gender Affairs Cabinet Secretary Margaret Kobia and female legislators, women were urged to change tack in their push for enactment of the Two-thirds Gender bill.
Ms Kobia said it was important female MPs sought audience with President Uhuru Kenyatta. Chief Administrative Secretary Rachel Shebesh called on the legislators to approach the issue not as a gender matter, but a constitutional one.
"We must change the strategy because when you lose three times it means the time has come to discuss this from an absolutely different perspective," she said.
Article 81(b) of the Constitution states; "Not more than two-thirds of the members of elective public bodies shall be of the same gender".
There has been no consensus over the three proposals that have been put forward to meet the requirement. Shebesh said it was time to consider establishing a mediation committee to develop a version of the bill that they can pass, perhaps at joint sittings, in view of the stalemate.
While National Assembly Majority Leader Aden Duale had promised that the two-thirds gender rule, under the Constitution of Kenya (Amendment) Bill 2015, would be passed when Parliament resumes in May last year, the House did not raise the 233 MPs requirement as some MPs were opposed to it.
Nominated MP Cecil Mbarire said women ought to agree on some irreducible minimums and progressively implement it in five to 10 years.