Miguna Miguna now drags Raila into his deportation woes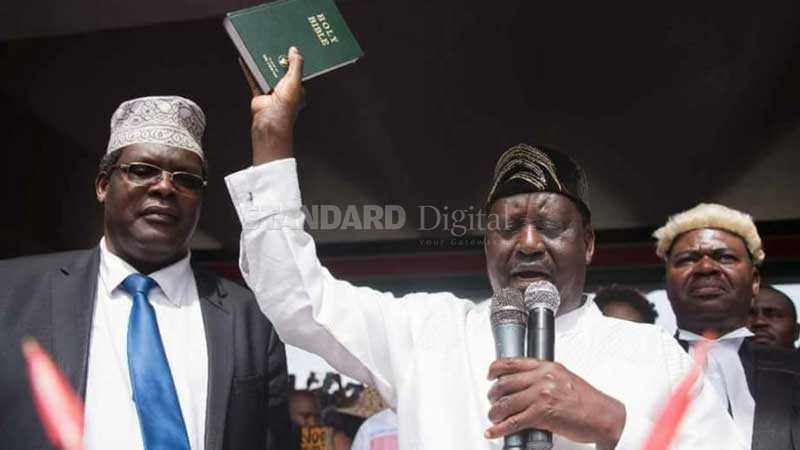 Three days after lawyer Miguna Miguna was deported for the second time in as many months, he has for the first time blamed Raila Odinga for not securing his entry into Kenya.
In a statement from Dubai, Miguna accuses NASA leader Raila of sitting pretty with his oppressors even though his tribulations began with him administering the controversial January 30 oath.
"Raila Odinga cannot and should not be enjoying Easter abroad and dining with the tyrants when the person who swore him in as the people's president is being "murdered" by those who stole his election and who have killed and maimed his supporters," he said.
Then NASA leader has not publicly commented on the deportation but tried to mediate the standoff between Miguna and Immigration officials on Monday night.
A forlorn Raila was however, humiliated by police officers at Jomo Kenyatta International Airport (JKIA) and left while Miguna fought a deportation attempt to Dubai.
Sources close to Raila say he was unsuccessful in getting high-level intervention when he phoned President Uhuru Kenyatta.
A situation that threw into the spin the value of his recent rapprochement with Uhuru.
Miguna who says he is in urgent need of medical attention, has called on his supporters to demand for action to liberate him from Dubai and facilitate his return to Kenya.
"The illegitimate tyrants in Nairobi injected poison, disease causing agents and other fatally debilitating chemicals in my body," he said.
"Mobilize large groups of people to demonstrate, make noise and demand that my birth right, constitutional and legal rights be respected and upheld," he said.
Recently, Kenya Airport Police Unit (KAPU) commandant Philip Ndolo was removed from command for mishandling the fiasco that marred Miguna's return.
Miguna added that court orders needed to be obeyed and he should be allowed an entry to live and work in Kenya.
This is as the Judiciary has come under great criticism for inaction in the face of government's continued defiance of court orders.
To fight drought, involve communities
According to the latest information from the Meteorological Department, rainfall will be poorly distributed in April, May and June, and this will have a serious impact on agriculture