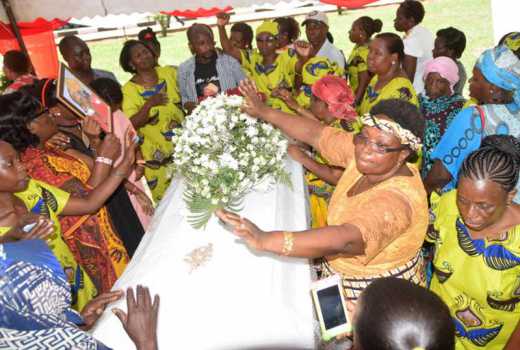 Coast leaders on Saturday closed ranks in a renewed push for elusive political unity and formation of a party.
This was during the burial of the widow of late former Cabinet minister Karisa Maitha in Mtwapa, Kilifi.
Kilifi Governor Amason Kingi and his Mombasa counterpart Hassan Ali Joho skipped the burial of Mama Alice Maitha and instead sent their deputies amid claims of a plot to heckle leaders for neglecting the widow and her family following Maitha's sudden death in August 2004.
ODM and Jubilee leaders led by Lands Chief Administrative Secretary Gideon Munga'ro resolved to bury the hatchet. Mr Munga'ro, Mombasa Deputy Governor William Kingi, his Kilifi counterpart Gideon Saburi, three MPs and a host of MCAs supported calls to unite the Coast leaders.
The move gives impetus to Kilifi Governor's drive to unite the leaders and form a regional party. "The enemies of Coast people are their leaders," said Mung'aro adding that he was ready to work with all Coast leaders to achieve the decade-long quest for the political unity.
It also emerged that MPs under the Coast Parliamentary Group have organised a conference next month to chart their political course.
"We agreed with most Coast leaders to meet in Kwale to deliberate about our unity," said Munga'ro adding that all MPs, Senators and governors will be invited.
Thirdway Alliance party leader Ekuru Aukot called on leaders and residents to tackle marginalisation and underdevelopment.
Political analysts predict that historical rivalries along racial, religious and ethnic lines which have held back efforts to form the party could still derail the renewed push for unity.
Kilifi South MP Ken Chonga (ODM) said the January 4, 2014 goals of Dabaso declaration which was to culminate into the region's political unity should be revived. "We want Mung'aro to team up with other leaders who support the idea of the party and lead us towards that goal agreed in the Dabaso declaration," said Mr Chonga.
Munga'ro termed the truce between President Uhuru Kenyatta and NASA leader Raila Odinga a lesson for Coast leaders.