Former Kitutu Masaba MP Bosire wages war against Matiang'i for calling him a moron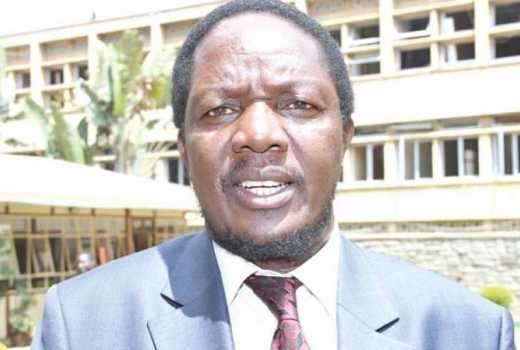 Former Kitutu Masaba MP Timothy Bosire has waged war against interior CS Dr Fred Matiang'i for calling him a moron.
The former vocal opposition MP alleged that the CS was playing behind the curtains to humiliate him socially, citing a public meeting which the CS attended at Kebirichi Secondary School, not far away from Bosire's own village, where he reportedly referred to him as "rioochi" and "richoni" - Ekegusii expressions which, according to the former MP loosely translates to someone who is mentally incapacitated.
Bosire, who was addressing the press immediately after the petition he had filed through a voter was dismissed by the Nyamira Election Petitions Court, also accused Dr Matiang'i of celebrating his downfall as Kitutu Masaba MP in the August 8 polls.
"It is an abomination, according to our traditional value, for any person to celebrate publicly the downfall or demise of another being. And for Matiang'i to get ecstatic and make celebratory run-arounds in my constituency, attacking my persona is something regrettable," the MP said.
He termed Matiang'i's attacks on him as localised "experimentation of Jubilee Party's dictatorship" which he said was a sign of "political constipation."
Bosire said Matiang'i was being used by the Jubilee Government to meddle into the business of Kitutu Masaba constituency, adding that such deep involvement by the CS is evidence that the powerful Office of the President plotted and meddled in last year's general elections to replace him "with their stooge."
The Orange Democratic Movement (ODM) Party treasurer further said that Matiang'i's way of running affairs of the country was alarming and told him to tone down on his "misadventures."
"When did Kitutu Masaba voters lose their rights to self-determination and become a political colony of Dr Matiang'i to be micro-managed politically from Harambee House alongside their surrogate MP who now is serving the interests?," Bosire posed.
He said the CS is pretending to be a political master, saying he should join active politics.
The politician also dared Dr Matiang'i to venture into competitive politics for him to do self-actualization.
"Now that the CS is pretending to be a political master operative, why can't he join active politics and gather courage to join the fray in competitive politics. He should even start by vying for an MCA position anywhere he thinks he is popular in Gusii land so that we see how many votes he will get," angered Bosire said.