Raila: I will soon have powers to execute my new-found mandate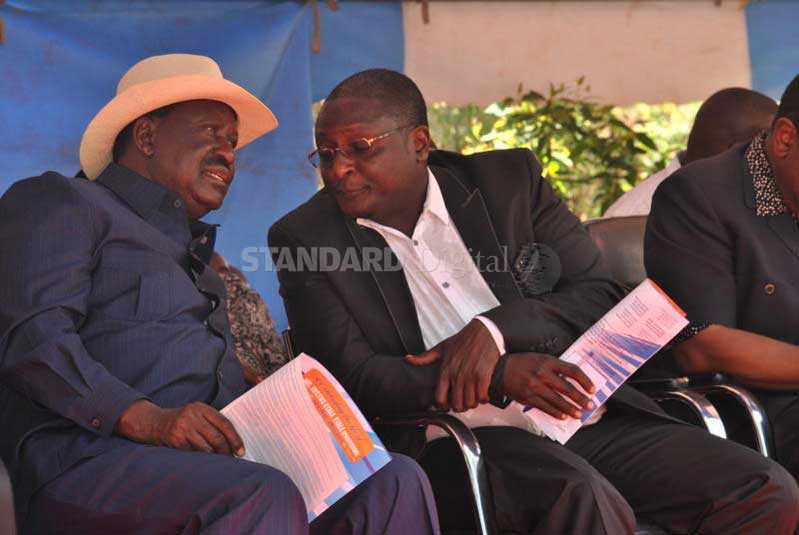 National Super Alliance (NASA) leader Raila Odinga said he has delivered his supporters to Canaan and that it was only a matter of time before he starts executing his mandate as the 'people's president.'
Speaking, during the requiem mass for Justus Etale, the father of ODM Communications Director Philip Etale at Musitinyi village, Vihiga County, yesterday, Raila announced that NASA is now setting up structures in 'Canaan' that would work for a better Kenya.
"We are already in Canaan. We are now putting in place structures that will enable us to execute our mandate, whether they (government) like it or not," he said.
Since his swearing in on January 30th, the opposition leader and NASA co- principals Kalonzo Musyoka and Musalia Mudavadi have on several occasions accused the Jubilee government of subverting the Constitution.
"Our Constitution has since 2013 faced its nemesis in President Uhuru Kenyatta and his Deputy William Ruto," Raila said.
"At every opportunity, they have tried to invalidate clear provisions of the Constitution by either ignoring them or overriding them with decrees and legislation."
He asked his supporters to fight for the constitutional gains attained in previous years.
Undermining
"If we don't demand that everyone from the President downwards submits to our Constitution and to the constitutional organs that we created to keep them accountable to us, then we shall have allowed a "State capture" by a few individuals and we shall cease to be citizens of our country and become subjects to a political oligarchy," he said.
The Jubilee Government has the past weeks embarked on a crackdown that culminated in the deportation of Miguna Miguna as well as the withdrawal of security detail of some NASA politicians as well as the shutdown of leading media houses. Acts which have been deemed unconstitutional.
An alliance of foreign envoys has however accused Raila of being part of the individuals undermining the very Constitution he claims to fight for. "A father of multi-party democracy has made unsubstantiated claims about elections and unilaterally sworn himself as "President," in deliberate disregard of the Constitution for which he so proudly fought," the envoys said of Raila in a joint statement.
The statement signed by representatives of 11 countries also faulted the Jubilee Government for breaking the law on various occasions.
"We strongly urge the Government to comply fully with court orders and follow legal process in appealing or contesting them. Freedom of expression, freedom of the media, and all civil rights need to be protected. When individuals are arrested, their rights should be respected and due process followed," the statement reads, further warning that the push and pull between the opposition and government is dividing the country along tribal lines.
The envoys called on Jubilee and NASA to dialogue for the sake of the country.
"The opposition needs to accept that Uhuru Kenyatta and William Ruto are the legitimate President and Deputy President of Kenya as the basis for the dialogue that it and many Kenyans want. Stoking and threatening violence are not acceptable, nor are extra-Constitutional measures to seize power," the envoys said.
The envoys also urged the government to continue to be 'the guarantor of liberty and freedom of expression for all under the law.'
Difficult to control
Raila has in previous interviews expressed willingness to dialogue.
He also hit out at security forces for disrespecting the rule of law.
"We can't live in a country where the police don't respect the lives of the people that they are sent to guard every other day. If it continues this way, the people may decide to rise against them and it would be difficult to control them," Raila said.
The NASA leader was accompanied by Governor Wilber Ottichilo, senators George Khaniri (Vihiga), Cleophas Malala (Kakamega) and Amos Wako (Busia), Vihiga women rep Beatrice Adagala, and MPs Godfrey Osotsi (nominated) and Chris Omulele (Luanda).