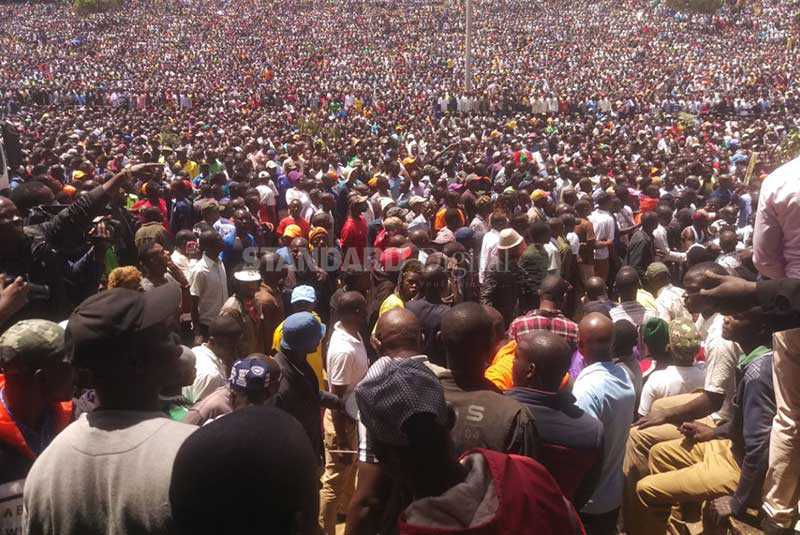 The much-hyped 'swearing in' ceremony of Raila Odinga has elicited mixed reactions as Kenyans on Twitter expressed what they feel about the event.
This is after opposition leaders insisted on proceeding with the 'swearing in' of Raila Odinga and Kalonzo Musyoka as the people's president and deputy president of the people of Kenya at Uhuru Park; despite warnings from government and police about illegalities surrounding the event.
Using the hashtag #NASASwearingIn some Kenyans supported the 'swearing-in' event while Jubilee supporters dismissed it as a meaningless oath.
After major TV stations including KTN News, NTV and Citizen went off air, NASA supporters vowed to follow the event via social media.
As supporters from NASA strongholds were heading to Uhuru Park on Tuesday morning for the much-anticipated 'swearing in ceremony, residents in Jubilee strongholds had different views about it.
Read More
Speaking to KTN News reporter in Nyeri town, some Jubilee supporters wanted the government to arrest NASA leaders after being 'sworn in'. They said the country has a president who was sworn in according to the requirements established in the constitution of Kenya.
Most of the Jubilee supporters who spoke to KTN News during a live interview on Tuesday morning said the NASA 'swearing in' event is illegal.
Some county governments in NASA strongholds had ferried supporters to Nairobi for the event. For example, several buses were hired to take opposition supporters from Mombasa to Nairobi.
On Monday, hundreds of youths staged protests in Kisumu over alleged 'laxity' by area leaders to ferry them to Nairobi for the 'swearing in' of Raila Odinga. The youths, who were chanting pro-NASA slogans, stormed the county headquarters demanding audience with county officials.
A section of NASA supporters in other counties such as Busia and Kakamega failed to travel to Nairobi after lacking means of transport and support from local opposition leaders.
Below are comments by Kenyans on Twitter;
IrakiHn @harry_ndungu After the swearing in, Rao na Kalonzo wataelekea Statehouse ipi? #NASASwearingIn
@IamNjokiKelvin #NASAOathDay #NASASwearingIn Revolutions are not planned! Revolutions are spontaneous! You cannot do so WITHOUT the aid of MILITARY. Civilian coup hardly succeed.
moodykimwele @moodsthatbug #NASASwearingIn two important days in a mans life, the day his born and the day you stand up for what you believe in?
True Patriot @Obi_kenya001 The problem with Raila and his team is being slow, the more they delay the more the despots are winning. I hope they're not looking for a reason to postpone or cancel the swearing in. Anxiety is killing me #NASASwearingIn #RailaSwearingIn #NASAOathDay
lgon Maasai @sammy_monoo Uhuru Park, Kenyatta Avenue and Uhuru Highway are Freedom Lanes. It is filled with NASAsuppoters who are now controlling traffic. @Ma3Route #NASASwearingIn #NASAOathDay
kot hacker @kot_hacker The despot are busy taking down live streaming, people are busy streaming to Uhuru park. #NASASwearingIn #livestreaming #NASAOathDay
BABAKE...DC1X @IvanHezz @CoalitionNASAKe doesn't even have a TV station aligned to its leaders. all TV stations are owned by jubilee guys and we expect them to air our Oath. #NASASwearingIn #RailaSwearingIn
Onesmus @ones_mc @RailaOdinga @skmusyoka If you don't get sworn in today, your contracts with the KENYAN people will be gone for good #NASASwearingIn #NASAOathDay