I am ready to die on Tuesday if my blood will bring change and justice, says Raila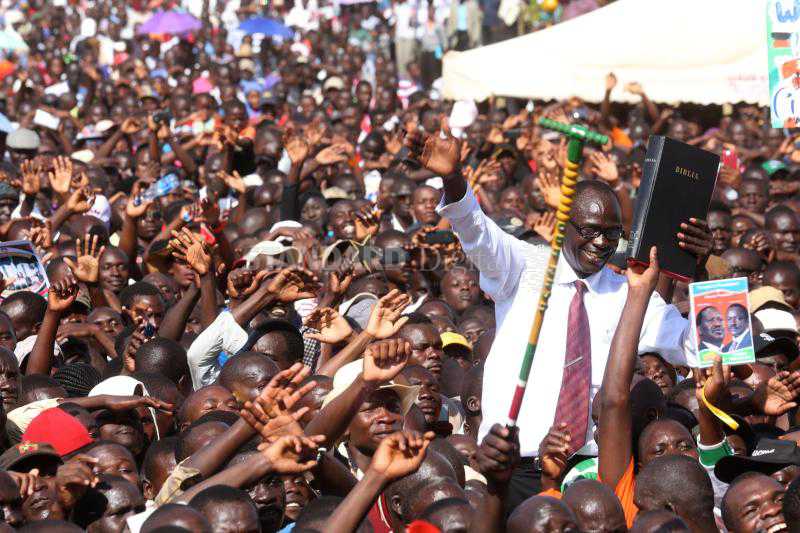 NASA leader Raila Odinga declared that he is ready to die or be jailed for life, as he wound up his countrywide rallies a head of his planned swearing in as the People's President in Nairobi on Tuesday.
Addressing a rally at Homa Bay stadium yesterday, which he described as the Last Supper with his supporters, Raila said there was no chance for dialogue and warned that Kenya could be headed for a conflict.
He said he was ready to pay the price for electoral justice and told Kenyans to come out in their numbers to witness his swearing in ceremony.
"If it will cost me my life or send me to jail for life, I am ready for it. My life is not better than that of baby Pendo or the more than 300 people who have died since the August 8 elections," said Raila who was accompanied co-Principals Kalonzo Musyoka and Musalia Mudavadi.
He added: "They say they will charge me with treason. I want say here today in Homa Bay, Asego Kanyada that I'm ready to pay the ultimate price."
Raila said Kenya will never be the same again. "On January 30, Raila will be at Uhuru Park. I will take the oath. I'm telling the police not to interfere because it will be the biggest peaceful demonstration ever held in post independent Kenya."
Raila, who spoke in Dholuo, English and Kiswahili, urged Kenyans to wake up early and march to Uhuru Park in Nairobi armed with white handkerchiefs.
Nairobi County Government announced that Uhuru Park has been closed indefinitely for repairs in what NASA leaders see as a ploy to lock them out of the grounds.
Yesterday, Raila, Kalonzo and Mudavadi insisted that they won the annulled August 8 presidential elections. "Our victory was stolen in broad daylight. We have finally accessed the IEBC servers with some of our friends from America and you have seen the results," said Raila.
The three leaders told the international community that all was not well in Kenya. "The international community should be notified that a serious conflict is looming in Kenya because Jubilee has refused to dialogue," said Raila.
Kalonzo and Mudavadi said NASA leaders have patiently waited for Jubilee to initiate dialogue in vain. "We have slammed our brakes for too long. We have removed our foot from the brake pedal and we are now headed to Uhuru Park," said Mudavadi.
"We gave a lot of time for the Jubilee Party leadership to participate in dialogue but they declined. Everybody in the world should now understand that their disobedience has now put this country into crossroads," said Raila.
He said President Kenyatta should take blame for any crisis that might befall the country due to the post General Election disenfranchisement.
Referring to what happened in 2007, 2013 and last year, Raila said Kenyans must now stand firm in condemning electoral malpractice. "We cannot allow a political system where the incumbent decides who wins a presidential election. We must now stand firm as Kenyans and initiate reforms which can eradicate electoral malpractice," he added.
Earlier while addressing members of People's Assemblies drawn from Nyanza, Raila said technocrats who opened the Independent Electoral and Boundaries Commission (IEBC) server discovered that he defeated Kenyatta with a big margin hence he is the validly elected president.
Looming chaos
"The IEBC ought to have opened the server as the Supreme Court directed but it refuse d. The results which our experts got after opening the server are the genuine ones. I challenge the IEBC to open the server and share the findings with the public if they are rejecting our discovery," said Raila.
Kalonzo asked the international community to keep an eye on Kenya over looming chaos. He told the police to keep off the swearing-in and accused the Attoney General Githu Muigai of selective interpretation of the law by declaring the People's Assembly illegal.
"I think Githu is an AG of the whole country but he acts as if he only serves a section of the political divide," he added.
Siaya Senator James Orengo said Raila's swearing in on Tuesday is in line with the Constitution.
Governor Cornel Rasanga read a resolution on People' Assembly passed by Kisumu, Migori, Siaya and Homa Bay county assemblies.