Leaders give mixed reactions over list of new cabinet nominees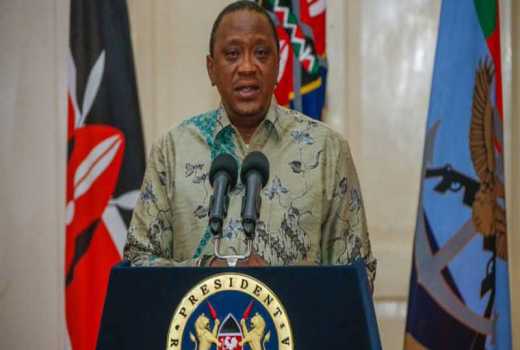 Nyaribari Chache MP Richard Tongi, Bomachoge Chache MP Alfah Miruka and South Mugirango MP Silvanus Osoro have thanked President Uhuru Kenyatta for appointing three members of the Gusii Community to the new cabinet.
In the new Cabinet lineup, Fred Matiang'i was made Interior and National Coordination Cabinet Secretary, Chris Obure was made Chief Administrative Secretary Ministry of Transport and Infrastructure Development while Susan Mochache became Principal Secretary Ministry of Labour and Social Protection.
However, Osoro broke ranks with his colleagues saying that it was erroneous for the President to appoint Obure to a lucrative job in government while he was over 70 years old and had served the country for many years and deserved to retire and give a chance to younger individuals.
"I thank the President for considering the community but are there no young men in Kisii? This thing of recycling used catridges should just stop, we have able,strong and learned young men from Kisii who can do better than Chris Obure who has been in the public limelight for many years," said Osoro.
The South Mugirango MP said that he supported the appointment of Matiang'i and Mochache since they have performed well in the past and they are of a considerable young age compared to the former Kisii Senator and that as a young man he would not support Obure's appointment.
Tongi thanked President Kenyatta and Deputy President William Ruto for expressing confidence in the three members of the Gusii community in his Cabinet and appealed to them to consider other qualified members of the community in the vacant positions in the Cabinet.
"While we appreciate the kind gesture by the President to appoint our brothers Fred Matiang'i and Chris Obure and our sister Susan Mochache in the Cabinet, we ask him to consider our other sons and daughters from Gusii land for some of the vacant Chief Administrative Secretaries and Principal Secretaries positions," said Tongi.
Miruka thanked the President for appointing Obure to the Cabinet and assured members of the Gusii community that the position given to the former Kisii Senator was lucrative since he had three Principal Secretaries working under him in the Ministry of Transport and Infrastructure Development.
" There have been concerns among our people since Chris Obure was appointed as the Chief Administrative Secretary in the Ministry of Transport and Infrastructure Development that he had been demoted considering that he has served as a Cabinet Minister before in the governments of Presidents Daniel Arap Moi and Mwai Kibaki, however that is not the case," said Miruka.
The Bomachoge Chache MP said that Matiang'i and Obure were now in charge of crucial dockets and that members of the Gusii Community stand to benefit a lot for the next five years.