Race against time as IEBC submits papers used in October repeat poll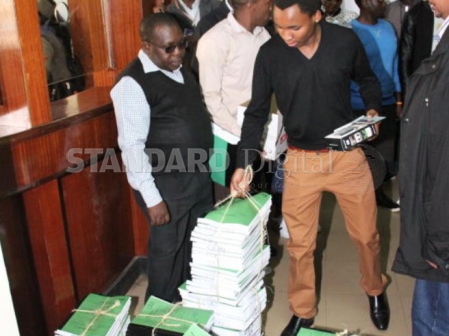 The Independent Electoral and Boundaries Commission (IEBC) has submitted forms it used in the October 26 repeat presidential election.
The commission's team arrived at the Supreme Court with 266 forms 34B and 37,187 forms 34A at 3.25pm Friday.
No IEBC commissioner accompanied the team that brought the forms bundled in booklets with green covers.
The team, led by commission lawyers Wambua Kilonzo and Kimani Muhoro, made several trips to the registry.
They also had with them a harddisk which contains scanned copies of forms 34A, 34B and 34C.
"We have complied and we are also ready to defend our client," said lawyer Kilonzo.
Electoral laws require IEBC to file all records of presidential election results within 48 hours after being served with a petition challenging the declaration of results.
All eyes will be on the Supreme Court, with the parties curious to know whether the judges will have time scrutinise all the documents.
It is these forms that caused controversy during the August 8 General Election presidential petition during the reading of the final and detailed judgment. When reading her dissenting opinion, Justice Njoki Ndung'u, stated that the majority judges did not scrutinise all forms before coming up with their verdict.
She submitted that the majority judges—Chief Justice David Maraga, his deputy Philomena Mwilu, Justices Smokin Wanjala and Isaac Lenaola —relied on the report given to them by the Supreme Court registry indicating that some forms were photocopies and unsigned.
According to Justice Njoki, all the forms deposited in the registry were proper, and the majority did not therefore have a basis to overturn the election of Uhuru Kenyatta.