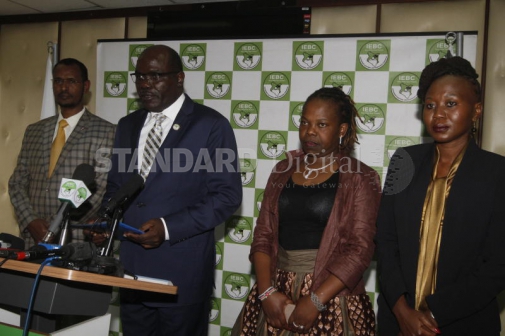 It was a day of gloom for the Independent Electoral and Boundaries Commission (IEBC) as the Supreme Court squarely heaped blame on the team for bungling the presidential election.
The weight of being culpable could be seen through the eyes of their battery of lawyers who hurriedly left the court soon after the judgment, not wishing even for a moment to field questions from journalists.
IEBC legal team was led by senior counsel Paul Muite and comprised Lucy Kambuni, PLO Lumumba, Paul Nyamodi, Kamau Karori, Cyprian Wekesa, Paul Lilan, Eric Ruto, Issa Mansur, Edwin Mukele, Peter Wanyama and Fredrick Sisule.
The commission's predicament was worsened by immediate calls by the National Super Alliance (NASA) leaders that it be overhauled in the wake of the judges' findings that it did not comply with the Constitution and relevant electoral laws during the presidential election.
Chief Justice David Maraga, his deputy Philomena Mwilu, judges Smokin Wanjala and Isaac Lenaola were convinced by the line of argument adopted by NASA that the IEBC failed to adhere to constitutional provisions on free, fair and transparent elections.
Read More
During the latter stages of hearing the petition, NASA, through lawyers James Orengo, Pheroze Nowrojee and Otiende Amolo tactically retreated and avoided dwelling much on the final results but the conduct and processes used by IEBC during the elections. The lawyers submitted that the electoral process did not meet the constitutional threshold of free, fair, credible and verifiable elections.
"Upon considering Articles 10, 38, 81 and 86 of the Constitution as well as Sections 39 (1C), 44, 44A and 83 of the Elections Act, the decision of the court is that IEBC failed, neglected or refused to conduct the presidential election in a manner consistent with the dictates of the Constitution and the Elections Act," the judges ruled.
On the issue of transmitting results, the judges found that there were irregularities and illegalities committed by IEBC in the conduct of the 2017 presidential election.
Although the judges said they will give the particulars and the substance of irregularities, it will be largely be on NASA's submissions that IEBC Chairman Wafula Chebukati announced the final results in the absence of 11,000 Forms 34A which affected 7 million votes.
There were also arguments of interference with the IEBC electronic systems thereby compromising transmission of results, and the argument that the commission altered some Form 34As and used fake forms.
The judges shifted the burden to the commission to ensure they conduct fresh presidential election in accordance with the laws it violated, and focus will be how they streamline the process to avoid a similar situation.