Why Decision 2013 was ridiculed, torn apart by scholars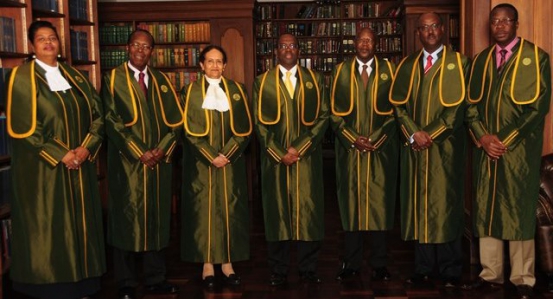 The precedent set by the Supreme Court in the 2013 presidential election was so stiff that a constitutional scholar described it as "a giant jurisprudential step backwards."
In one of the most stinging critiques of the unanimous decision rendered against petitioner Raila Odinga, lawyer Wachira Maina came close to calling it the "death of presidential petitions" in the post-2010 constitutional era.
"It is extremely difficult to see how a petitioner could ever succeed," Maina said in his critique serialised in a local publication.
The judgment, which has been criticised for its lack of depth and weak philosophical base, was delivered by retired judges Willie Mutunga (Chief justice), Kalpana Rawal (Deputy chief justice) and Philip Tunoi and serving judges Smokin Wanjala, Njoki Ndung'u, Mohamed Ibrahim and Jackton Ojwang.
Too lenient
Rawal and Tunoi were forcefully retired in a protracted battle that left the Supreme Court exposed and its credibility in question.
Wachira faulted the ruling on several grounds — reliance on extremely backward Nigerian authorities, over tolerance of IEBC's explanations on voters register, disregard for court's own tallies in the final judgment, reliance on subsidiary legislation to limit meanings of constitutionally unambiguous terms and for merely taking "judicial notice" of serious travesties on the part of IEBC.
Put in simple terms, Wachira argued that the court was too lenient on the electoral body and harsh on the petitioner.
The decision was also criticised by the Law Society of Kenya (LSK) and scholars Ben Sihanya and Yash Pal Ghai among many others. Cardiff University professors John Harrington and Ambreena Manji described it as inconsistent with the transformative ambitions underpinning the new Constitution.
"Through its emphasis on evidential and procedural rules, rather than principled analysis, the judgment tends to reinforce the powers of the Executive and the model of a unitary state beyond the reach of the law," the pair of professors said in a paper titled Restoring Leviathan? The Kenyan Supreme Court, Constitutional Transformation, and the Presidential Election of 2013.
The paper was published in the journal of Eastern African studies Volume 9, 2015 issue 2.
The key issue raised by all critics is the finding that petitioners must not only prove whether the law was not complied, but also whether the failure to comply with the law in the conduct of election affected the validity of the election.
Take a quick survey and help us improve our website
Take a survey
Time limits
Others took issue with hazy standard of the proof which was placed above balance of probability but below reasonable doubt.
"It seems more likely than not that Kenya will never have a run-off election so long as a candidate can, by hook or crook, get himself declared elected. The onerous standard of proof would be incredibly difficult to discharge," Wachira said in his broadside.
The LSK, in its 44-page report on the 2013 electoral process, accused the Supreme Court of harping on technicalities to reject the filing of a supplementary affidavit outside time limits.
To fight drought, involve communities
According to the latest information from the Meteorological Department, rainfall will be poorly distributed in April, May and June, and this will have a serious impact on agriculture