Yes, I'm more than my American accent and I can be president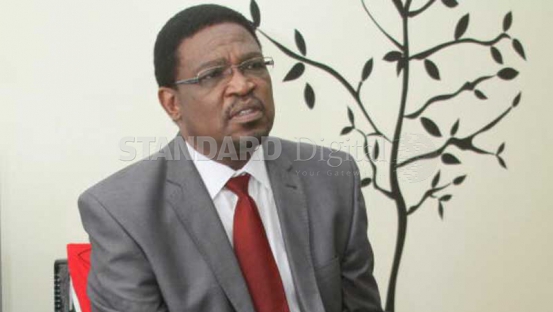 Social media users call him a non-starter; a late comer arriving at a party when the dessert table has been cleared. Some of his former classmates accuse him of being an opportunist who uses his American drawl and rehearsed quotes to cast an image of sophistication and class, while his extended family languishes in poverty.
Others think he could be part of a strategic plan to disintegrate voters from the Kamba community. Dr Japheth Kaluyu feels the descriptions misrepresent him.
He prefers to be referred to as that village boy who rose above poverty, took himself to the US and is returning to his country to seek the presidency.
"Most people do not know what I am all about. I do not blame them because I have been away for a long time," says Dr Kaluyu.
He was born on October 20 1966 in Kakuuni village, Makueni County. His father was a business man and his mother a teacher.
He went to St Charles Lwanga Secondary School in Kitui and proceeded to Thompson Falls High School in Nyahururu. Dr Kaluyu claims he worked at a bank after high school and saved enough money to travel to New Jersey, US in 1993 in a bid to seek greener pastures.
He joined Ramapo College for a Bachelor of Finance and Economics degree and pursued a Masters on the same at New Jersey Institute of Technology. He holds a PhD in Urban Health Policy from University of Medicine and Dentistry in New Jersey. He says the desire to become president of Kenya struck him five years ago while on a visit to his motherland.
Then, he realised the youth, who form a large percentage of the population were unemployed.
Three years later, he came back and assembled 21 student leaders from various universities in Kenya for a discourse on how to address the issues in the country.
"The more I talked to them the more they told me that my kind of brain cannot be wasted and that I should be part of leadership here," he says.
I have an edge
Brenda Ochol, a business woman lets out a loud laugh on Kaluyu's candidacy, saying he is delusional. "How can he have a PhD and not figure out that he has absolutely no chance? It is the first time I am hearing of him," she says.
But a determined Dr Kaluyu says people should not dismiss him for lack of experience since his non-involvement in politics previously gives him an edge. He feels he is 'clean' from the baggage most candidates bear.
He plans to use what he calls 'Six-point Plan' to win over voters. It includes investing in the diaspora, cutting taxes and ending corruption. Kenyans interviewed by the Sunday Standard had mixed reactions on having a political newcomer occupying the top seat.
"Does he even know what Kenyans want? He has been away for more than 20 years," reads a tweet sent on the day he was interviewed on KTN.
He responds to accusations of naivety by saying he has an advantage because he understands Kenya and beyond. "Kenyans need to start on a clean slate," he says. He adds that accusations that his campaign has an impractical approach, anchored on scholarly talks is false.
"I have been campaigning, walking around slums and holding meetings with voters," he says and adds that his campaign does not attract large crowds due to the security risks.
"If I start holding the kind of rallies Uhuru Kenyatta and Raila Odinga are having, I would die," he says, explaining that even though he has been allowed body guards, huge rallies require logistics he may not maneuver. On his family, he says: "All I can say is that I have a wife and two children. Nothing more."
He confesses he has made many mistakes in life, the most recent being plunging into presidency race without thinking through the costs.
He says he has used more than Sh5 million in his chase for the seat. "It is like a drug. Once you start, it is hard to stop," he says. The presidential candidate says nothing will stop him. After all, his mantra in life is to go after what he believes in, so that when he exits the world, he leaves the media with a splash – the main story, and not just a footnote to be noted in history books.