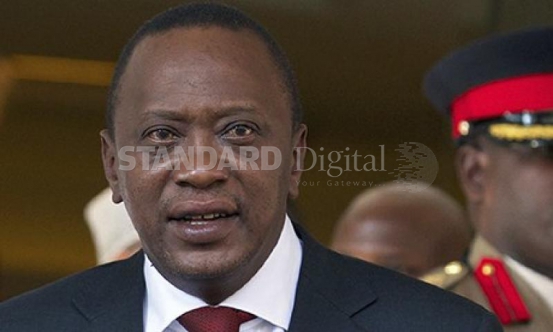 President Uhuru Kenyatta has denied claims by the Opposition that he is planning to cling to power should he lose next month's elections.
President Kenyatta at the same time told off Opposition leader Raila Odinga over remarks that he will reject presidential results.
On Tuesday, Raila convened a press conference and claimed Uhuru was mobilising the military to use it in retaining power.
But Uhuru yesterday said he is ready to respect the people's verdict at the ballot and dismissed Raila's assertions as wild, baseless and laughable.
Credible elections
He challenged the National Super Alliance (NASA) presidential candidate to also commit that he will concede defeat if he loses to him in the August 8 elections.
"It is now imperative that the former Prime Minister and other Opposition challengers must reassure the people of Kenya that they will categorically pledge to accept the results of the 2017 presidential ballot and will seek to ensure the elections take place as gazetted," Uhuru said through a statement by State House Spokesman, Manoah Esipisu.
Uhuru said he is committed to peaceful, free, fair and credible elections, pledging his total support to democratic institutions, whether politically or financially.
He censured the NASA presidential candidate over his 'unfortunate remarks', which he said are intended to willfully undermine public confidence in the electoral process.
"Our democratic system envisages an incident-free, fair, transparent and credible electoral process where the will of Kenyans is exercised," said the President.
The Head of State took issue with what he called "four fundamental matters the Opposition has misinformed Kenyans on", stating that he respects the rule of law and the Constitution.
"The President is a staunch supporter of our institutions. He has publicly unequivocally committed himself to accept election results," said Mr Esipisu.
"President Kenyatta has repeatedly reassured Kenyans and the electoral body of his commitment to elections as determined by the law. We find allegations contrary by his opponents to be mischievous, baseless and absolutely laughable," he added.
The Jubilee Party leader challenged Raila and other presidential contenders to reassure Kenyans that they will categorically pledge to accept the election results.
"Our destiny with August polls is enshrined in our Constitution. We are surprised and shocked at the allegations made by one of the President's challengers on July 11," said the President, in reference to Raila's claims that he has sensed defeat and plans to cling on to power.
He said those who call themselves architects of democracy would be expected to understand the election timelines.
"This is a strategy in place to manipulate the elections and it amounts to an inciteful and reckless conspiracy that jeopardise vital public faith in our institutions and democratic processes," he said.
Kenyatta one again turned the heat on Raila and his cronies for attempting to derail preparations for the elections through the courts.
30 cases
"It should be noted that they (NASA) have so far filed more than 30 cases in our courts which we believe to be frivolous and without merit, all aimed at influencing, dictating and even stopping the elections from happening," said Uhuru.
He weighed in on the controversial presidential ballot printing tender, saying NASA's demand to be included in the tender committee to procure ballot papers.
"Common sense dictates that there is no bigger interference with the independence of Independent Electoral and Boundaries Commission than dictating how, when and where they run their affairs," he said.