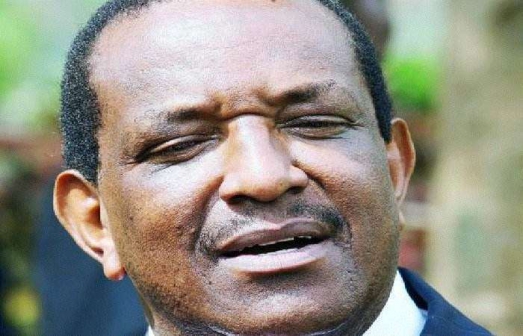 Independent presidential candidate Joseph Nyagah will launch his campaign on Tuesday with a vow to mount a contest like no other in Kenya's history.
The 69-year-old veteran politician and former Cabinet minister caused a stir when he suddenly announced his resignation as presidential adviser on the Lamu Port-South Sudan-Ethiopia-Transport (Lapsset) Corridor and chancellor of the Co-operative University, and declared he was running for the presidency as an independent candidate.
His decision to run against his former boss, President Uhuru Kenyatta, and coming from the Head of State's backyard, caught many by surprise, with questions arising on what platform he would peg his bid.
Yesterday, Nyagah said preparations for his bid are ready. He has set-up a state-of-the-art presidential campaign secretariat on Ngong Road. "We have been preparing and putting systems in place. I have received a lot of support and many Kenyans of goodwill are ready to join me. You will see some of them on Tuesday," he said.
Nyagah dismissed questions about being branded as a spoiler for President Kenyatta, saying residents of Mt Kenya region will soon appreciate his bid.
"I am ready for that and I will speak more on Tuesday. As for now, I can only say Kenyans and my people from Mt Kenya will soon appreciate what I have done as more facts emerge about the dynamics of the 2017 elections," said the former Gachoka MP whose father, the late Jeremiah Nyagah, was a minister in both the Kenyatta and Moi regimes.
"I have been in politics for several decades and Kenyans will soon wake up to the fact that 2017 is unlike anything they have seen before."
Running mate
The younger Nyagah served in the Moi and Kibaki cabinets, before he was appointed by Uhuru as a special envoy.
"It is the height of hypocrisy for someone to accuse me of contributing to a run-off since I am not the only presidential candidate from minority regions," he said, adding that he has not heard the same accusations leveled against the other independent presidential candidates.
"The valid question should have been why these presidential candidates are making the decisions they have made."
The former minister said several political analysts have missed important dynamics in the 2017 campaigns, which he believes will surprise many.
"Have you realised that half of the governors, MCAs, MPs and senators are not affiliated to either NASA or Jubilee?" he posed. "There is a third force in Kenya yet to capture the headlines."
He said he will unveil his running mate and campaign team on Tuesday. While Jubilee Party officials would not speak on record about Nyagah's late entry into the fray, analysts quietly acknowledge that some dynamics in Mt Kenya East are at play.
"It is hard to miss that State House's favourites for Embu governor's ticket Cecily Mbarire and Senate aspirant Kiringa Ruku lost in the Jubilee Party primaries. "That was a direct snubbing of Uhuru ally and Speaker of the National Assembly Justin Muturi. And now Nyagah is running for president," said a scholar from Mt Kenya.