Brace yourself for smear campaigns, Ngilu, Karua tell women aspirants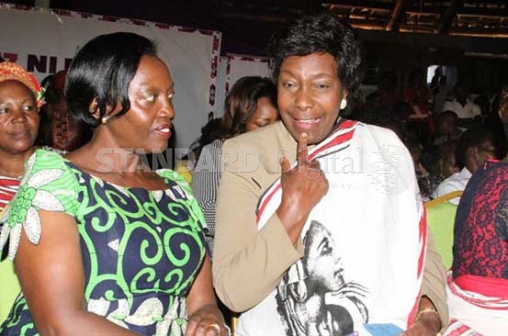 Expect a bruising campaign period for the August elections, women aspirants have been cautioned.
Former presidential aspirants Charity Ngilu and Martha Karua recounted their journey in politics and advised women to grow a thick skin to survive. They were addressing over 4,000 women gathered for a function meant to empower women dubbed "ni mama", at Bomas of Kenya, Nairobi.
"You have to speak to your family first and make them understand why you are vying. You should prepare them psychologically and prepare yourself to be insulted by your opponents," said Ms Ngilu, who is seeking to unseat Kitui Governor Julius Malombe.
"Being abused is the first step any woman aspirant must undergo. During my first stab in politics, I was called unprintable names, with some of the people I was competing with even questioning my morality. But you should be encouraged because I survived," she added.
Ms Karua who has declared interest in the Kirinyaga gubernatorial seat, said lack of money should not discourage women from throwing their hats in the political ring. She revealed that she plunged into politics without adequate funds.
"An average politician regardless of the gender has no much money. As a woman aspirant you should not be afraid because you do not have finances. Money is mobilised, it does not have to be in your pocket," advised Ms Karua.
"I did not have money when I got into politics. It is my fellow professional lawyer friends who assisted me mobilise resources. It is your networks that are important, use the power of your networks to gets finances do not call yourself poor," explained Karua.
Kisumu Deputy Governor Ruth Odinga concurred that its not easy for women in the political arena and called on other women to support aspirants.
"Even just coming out and announcing your political bid as a woman is not easy. It takes courage. The few women that have declared their ambitions should be supported by other women," said Ms Odinga.
"The menfolk have for a long-time divided women leaders by turning the public against us for their own selfish gain. We should not let them do that. We should support fellow women to push our agenda in Parliament and the county assemblies, regardless of the party they are in, " she added.
Other leaders present at the meeting were Gender Affairs Principal Secretary Zeinab Hussein, nominated Senators Beatrice Elachi and Zipporah Kittony, Kandara MP Alice Wahome and former Chief registrar of the Judiciary Gladys Boss Shollei.
"The government believes in strengthening women access to resources and opportunities. We have been bolstering their participation in decision and policy making at all levels," said PS Hussein, who officially opened the convention.
Mrs Shollei, who will vie for the Uasin Gishu County Woman Representative seat said women have the numbers and urged them to unite to win more seats in the forthcoming elections.
"The various political parties should also provide support to women leaders. They should change the rules for affirmative action and give direct tickets, to strong women aspirants, like some of those who have shown interest for gubernatorial posts," she proposed.
"Our first tribe is 'Mama'. We are women. We are meeting here as women – not parties or tribes. What we are calling for is support among ourselves for ourselves," she added.
The Ministry of Public Service, Youth and Gender Affairs organised the forum.