Senate wants eight governors prosecuted over corruption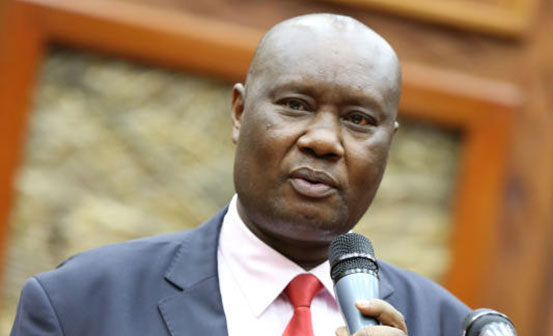 Senate wants eight governors investigated and prosecuted for breaching financial and procurement laws.
In a damming report by the Public Accounts and Investment committee on 10 counties, the governors were found to have violated the law by making payments to the Council of Governors (CoG) - a constitutional body funded annually by the exchequer.
In a 314-page document, governors Sospeter Ojaamong (Busia), Patrick Khaemba (Trans Nzoia) William Kabogo (Kiambu), Salim Mvurya (Kwale), Okoth Obado (Migori), Jack Ranguma (Kisumu), Daniel Waithaka (Nyandarua) and Moses Lenolkulal (Samburu) were cited for unaccounted for expenditure and misapplication of funds.
The eight governors are in trouble for making annual contributions to CoG, irregular procurement of insurance covers and skewed hiring of county staff among anomalies.
The senators have called on the Director of Public Prosecutions (DPP), Ethics and Anti-Corruption Commission (EACC) and Directorate of Criminal Investigations (DCI) to act on the report.
The report states that governors Ojaamong and Khaemba failed to provide documents to account for close to Sh1 billion each in audit queries raised by Auditor General Edward Ouko.
Cash balance
It recomends that Mr Ojaamong should be investigated and prosecuted for failing to account for Sh352 million unsupported cash balance, which was not banked in a Kenya Commercial Bank account as claimed.
The senators want the governor surcharged for failing to provide supporting documents for Sh 457,000 meant for allowances and transport. They also want him charged for Sh7 million meant for a tree-planting project with no master roll payment schedule.
Ojaamong is also on the spot for Sh16 million paid to Kenya Intercounties' Sports and Cultural Association games with no supporting documents.
Mr Khaemba is also on the spot for Sh64 million unsurrendered imprest, Sh45 million payment to creditors of the defunct local authorities' with no supporting documents, Sh129 million for bush clearing and road grading, Sh31 million for cash purchases and Sh13 million for purchase of land.
"The governor should be held responsible for Sh 13 million expenditure on motor vehicle insurance, Sh 4.8 million irregular supply, Sh 4.1 million fuel for private cars and Sh72 million cash withdrawals," reads the report.
Mr Waithaka is cited for unsupported expenditure of Sh657 million for rehabilitation of roads. The senators want him prosecuted for Sh110 million irregular procurement of a feasibility study on Olkalou town's sewage system.
County headquarters
They also want the governor to account for Sh62 million allocated to him by the defunct Transition Authority for county headquarters in 2013.
Governor Kabogo is in trouble with the senators for failing to account for Sh2.9 million imprest. The committee recommended that he should recover Sh23.4 million paid to Murang'a County officers working in Gatanga sub-county before the end of the 2016-2017 financial year.
The committee recommended that Mr Obado should be investigated by EACC for unaccounted for Sh145 million and Sh545 million in payment vouchers.
Governor Mvurya is required to explain the payment of over Sh13 million to CoG and Sh3.4 million in casual workers' wages.
Governor Ranguma, who is also the chairman of the Council Health committee, is on the spot for failing to release Sh186 million to Jaramogi Oginga Odinga Referral Hospital and failure to give information on Sh1.4 million paid for consultancy services for four defunct local authorities.
The governor was also censured for allocating Sh9.5 million to CoG, which the senators said was illegal.
The committee said Governor Lenolkulal breached the law when his government single-sourced for insurance cover at a cost of Sh2.4 million.
It also wants EACC to investigate him for Sh75 million unsurrendered imprest.
Bid to strengthen delivery for e-shoppers
Kilimall has signed a partnership agreement with Aramex, the global logistics and transportation services provider, to enhance its delivery services countrywide to meet the growing demand for its products.