Senator Zipporah Kittony retires from politics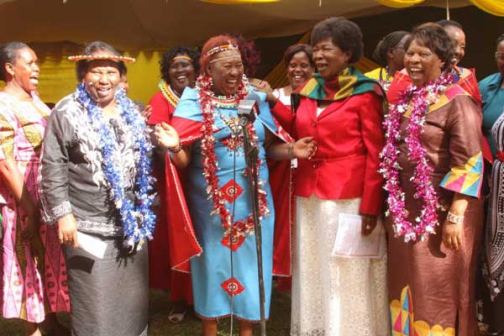 Kanu's Nominated Senator Zipporah Kittony has announced her retirement from active politics but will remain an active party member.
Kittony said she left politics to give room to other people and especially the younger generation to demonstrate their leadership capabilities. "I will be a Kanu active member, a consultant in women empowerment, a farmer and a business lady. I will be preoccupied with a lot of private engagements," she said.
"I have served four presidents beginning with founding father Mzee Jomo Kenyatta to the current, President Uhuru Kenyatta. I have performed well in leadership duties assigned to me and time has come for others to serve," said Senator Kittony yesterday at her Cherangany home in Trans Nzoia County.
She said her motivation to join politics was propelled by the need to liberate women who the society had relegated to second class citizens.
"I feel satisfied when I see women representation in elective seats and key government appointments.
When I joined politics, there were only three women in Parliament," she said. The former Maendeleo Ya Wanawake Organisation (MYWO) chairperson said through her leadership and others, women have been empowered.
"We have traversed the world championing for women rights and the quest for gender parity championed by all," she said.
MYWO Founding Chairperson Pheobe Asiyo, current Organisation National Chair Rahab Muiu and regional chair ladies visited Kittony at her home. She challenged women to take an active role in politics. "We have laid the foundation for you and as women from this country, you should battle it out. Women if given a chance can transform society to higher levels," she said.
Ms Muiu said Kittony is a great leader and an astute business lady who should be emulated. In a statement delivered by Rift Valley Kanu chairman Jonathan Bii, Baringo Senator Gideon Moi hailed Kittony as a fighter who has achieved in all positions she served.
"Ms Kittony is the epitome of leaders who served diligently in their positions. She is a principled character and should be emulated for a better society," said Senator Moi who is Kanu national chairman.
He asked Kenyans to register as voters and use the elections to choose leaders who have their interests at heart.
Kilemi Mwiria defection opens up Meru race
Presidential advisor Kilemi Mwiria's defection to Mandeleo Chap Chap (MCC) party has created a three-horse race for the Meru gubernatorial seat and complicated matters for Governor Peter Munya.