Jubilee Party collects Sh72m from smart cards sale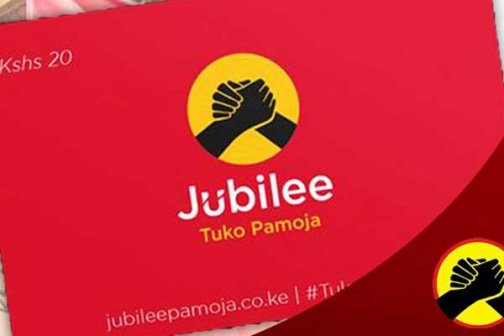 Crisis has hit the Jubilee Party secretariat over shortage of party membership smart cards only a week after an ambitious recruitment drive was launched.
This comes to the fore as it emerged the party has collected at least Sh72 million since the card was launched last Friday.
Yesterday, party members streaming to the head office in Nairobi to buy the cards could not get them.
On Friday and Saturday last week, the entire consignment Jubilee had ordered for the launch containing 1.5 million cards was sold. A card costs those joining JP Sh20. This means the party collected at least Sh30 million in two days.
The Standard on Sunday also established that an order for 2.5 million cards has been placed and is due for delivery on Tuesday. Of these, 2.1 million cards have been booked and paid for by party supporters.
This means 3.6 million cards have been sold, totaling to Sh72 million.
Another order of 5 million cards was placed on Friday and is expected to be delivered on Saturday.
"It is indeed true that we have a shortage of smart cards. But this situation is being handled appropriately and with the necessary urgency. We had procured 1.5 million during the launch that sold out by Saturday. We have records for those who have been coming to the party headquarters for the same and they will be issued with the cards soon. We expect at least 2.5 million cards by Tuesday and 2 million of them have already been paid for. The purchase of the cards is way above our earlier estimation. We are also expecting another 5 million cards by Saturday next week. In other words anybody who desires to join JP will get a card and will get registered. I can give that assurance," said party vice chair David Murathe.
Details for the production cost of the smart card were not immediately available. The party has also formed committees of 10 members in each voter registration catchment area to spearhead voter registration.
There are 24,000 registration centres. This means the party has at least 240,000 people spearheading voter registration at the ward levels countrywide.
The party, said Murathe, hopes to have recruited at least 11 million members who would also have been registered as voters.
It is compulsory for everybody who wants to participate in JP party primaries to have smart cards before they are cleared. The effect of this condition is one that it compels all aspirants to recruit as many members as possible to the party to boost their chances of winning in the primaries.
As this happens, the smart card is such that it can identify new members who are not registered either as voters or who many not have identity cards. This information is then shared with the ward committees for action.
"We have said only card carrying members will take part in our primaries. And the way to get registered once you've got a card is through your mobile phone. The card has instructions to follow while registering. Because the card is linked to IEBC database, we can know members who are not registered as voters. We can also know those who do not have identity cards. The next step is to ensure they are regsistred as voters after acquiring identity cards," said Murathe.
On Friday, President Kenyatta directed the National Registration Bureau to issue identity cards in not more than three days.
And speaking during the launch of the Jubilee smart card, President Kenyatta also announced the teams that would have registered the highest number of voters will be feted.
"After a month when we are done with registration of voters, we shall come back here in this auditorium and those who would have registered the highest number will be awarded," he said.