Peter Munya extols virtues of having many parties in the country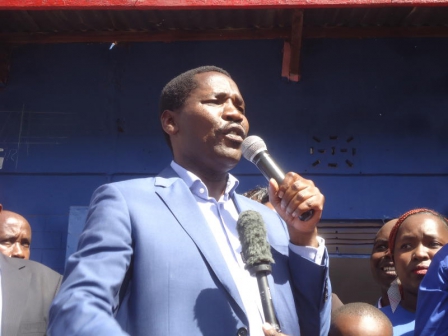 Meru Governor Peter Munya, chairman of Party of National Unity (PNU) has advised citizens of Mt Kenya East region not to vote for candidates forced on them by a popular party in the region.
In an apparent reference to Jubilee Party, which is perceived as a rival to PNU, Munya told residents not to expect free and fair party nominations from JP.
He said the electorate have a constitutional right and should be accorded a chance to choose their leaders of choice rather than those fronted by party leaders to cement their friendship or reward sycophancy as opposed to an aspirant's leadership abilities.
"In Embu County for instance there are seven aspirants for the governor position. If all were in the same party the way they are being forced to, the person who is a friend or known to the party leadership will bag the ticket and not because they are gifted leaders," pointed out the Meru Governor.
Speaking at Kiritiri market after opening a PNU office during a mission to popularise the party in Embu County on Friday, Munya claimed that the aspirants insisting that the region should remain in a single party (JP) were assured of getting tickets during primaries.
Munya who was accompanied by former Transport Permanent Secretary Dr Cyrus who has decamped from JP and is eyeing PNU ticket to run for Embu gubernatorial seat said having many parties would guarantee democratic choice to voters.
Munya who is also the Council of Governors chair clarified that his party has no enmity with JP, only that they compete for votes from the same electorate.
"We will field candidates for all the positions except the presidency since we will be supporting President Uhuru Kenyatta. For all the other seats Jubilee should expect fierce competitions. We expect to win many seats," he said.
Munya also took a swipe at his arch-rival Meru Senator Kiraitu Murungi, telling him his politics were out-dated and it was time to retire after 35 years in politics since he has nothing fresh to inject for Meru people.
The Meru county chief endorsed Dr Njiru as the best person to be the next Embu governor as he had proved himself as an astute manager and graft-free leader as a PS.
Dr Njiru on his part said he quit JP following the party's botched up election of interim officials last month and joined PNU as it has a rich legacy of being led by former President Mwai Kibaki.
Njiru promised to transform Embu through development projects in water, infrastructure, education, health and by best service delivery.