Go to court over election law, CORD advised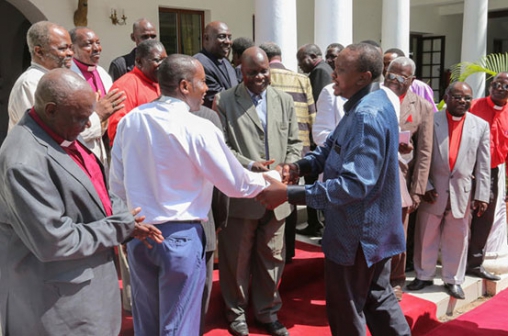 Jubilee Party has dismissed CORD's claims that the passage of the contentious Election Laws (Amendment) Bill by Parliament will encourage electoral fraud.
It also warned the Opposition against holding the country to ransom whenever things do not work their way.
In a swift response to the Opposition's claims that the passage of the Bill was a ploy to rig the August elections, Senate Leader of Majority Kithure Kindiki (Tharaka Nithi) and his Deputy Kipchumba Murkomen (Elgeyo Marakwet) urged their colleagues to seek legal redress if they are aggrieved.
They defended the Government's decision to sponsor the Bill, saying this was the best way to improve the election laws negotiated and drafted by the Joint Parliamentary Select Committee on electoral reforms.
The leaders said the Jubilee government represents the interests of the majority of Kenyans and stated that CORD leaders should not purport to speak on behalf of citizens.
"CORD should graciously accept it lost. Twenty-six counties voted in favour of the Bill against only 10 that were opposed to it. This is not a Jubilee law but it is for all Kenyans. If CORD is aggrieved with the outcome in the Senate, let its leadership use the constitutional means available," said Kindiki.
"The opposite of law is anarchy and that is dangerous for this country. We call on our political competitors to not create enmity in a political market. They should stop threats and intimidation every time their agenda is defeated."
Country under siege
Murkomen said that whenever CORD has felt aggrieved, it has often sought to express itself through street demonstrations.
"This law does not provide for rigging of elections. This is misinformation. It does not also provide for manual identification of voters. CORD's threats for mass action is not right," said Murkomen.
"We will not allow any Kenyan to lose his or her life for a politician to ascend to power. CORD is setting this country on a path of conflict and violence," said Murkomen.
The senators, who spoke at Parliamentary Buildings, defended their decision to support the Bill, saying time was running out and the country needed to prepare for the poll.
They said Parliament was under pressure from the Independent Electoral and Boundaries Commission (IEBC) to pass the law; therefore, some of the offensive clauses cited in the Bill could be addressed later.
"I will not be surprised if amendments are brought immediately and some of the offensive clauses deleted," said Kindiki.
Kindiki and Murkomen said Kenyans are being misled by the Opposition that the elections will be manual.
"This law is to ensure all eligible voters vote. What we developed through consensus two months ago was a good idea. But we are improving it. The law is not static," said Murkomen.