The good, the bad and the ugly of Uhuru's self-proclaimed errand boy Aden Duale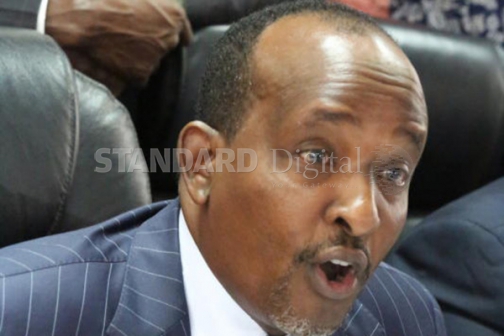 NAIROBI: In a secluded corner on the First Floor of Kenya's Parliament Buildings, there's a four-roomed office that serves as the Office of the Majority Leader.
In it, the occupant, Aden Bare Duale, the MP for Garissa Township, runs the business of the House. The spacious office is a wall away from the Office of the Deputy Speaker, Dr Joyce Laboso, and two doors away from the Office of the Speaker of the National Assembly, Mr Justin Muturi. The polished granite corridor, the mahogany door with an electric lock, the red carpet on the floor, cushy couches, mahogany desks, and the airy comfortable interior give an aura of power.
On any given day, you'll find MPs queuing to see Duale. They sit meekly – like high school students outside a principal's office—waiting for their turn. When he peeps to get something from the secretaries, their obsequiousness shows—they stand, nod fervently, calling him "Leader! Leader!" or "Kiongozi! Kiongozi". They know he runs the agenda of the ruling Jubilee Coalition in the House, and if he puts in a bad word for you with the coalition's leaders, your political career can crumble.
"You know you are just a junior, and I am a ranking member," Duale once reminded Sabina Chege (Murang'a), the chairperson of the Education Committee.
Sometimes, he says something, and qualifies it with "I want to go on record and state that because I am the Leader of the Jubilee Coalition in the House"
The former high-school head-boy, who had previously been suspended from Boystown Primary School in Garissa, and who used to sneak away from Garissa High School every Friday just to eat his mother's "chapati and tea" is now part of the powerful clique that runs the National Assembly. He drives the Jubilee agenda in the House, and when he speaks, he reminds everyone that he has the blessings of the President. He has no apologies if you view him as an "errand boy".
"It is good to be an errand boy of a sitting President, not an errand boy of a loser who is in the streets," he once told opposition MPs. He attacks anyone who criticises the government, and defends the government with all his..., well, mouth.
To those who like him, they see his role as the number one defender of the Jubilee administration in the political playground that is Parliament. To his critics, he comes out as reckless, big-headed, a "loose cannon" and one who is "excited" with power.
"The tone of (Duale's) voice offends half of this country," Jakoyo Midiwo, the Deputy Minority Leader once told him to his face in the House.
Divisive manner
In that mix of a big-mouth and a flagrant display of arrogance, it is difficult to forget that he has insulted governors and the Governor of the Central Bank, Patrick Njoroge. He has insulted teachers, including the boss of the teachers' union Wilson Sossion. He has threatened media houses. He has sparred with former Chief Justice Willy Mutunga. He has turned on his former allies, such as ex-minister Anne Waiguru. And yes, his pet subject is his former boss, opposition leader Raila Odinga.
James Nyikal, the MP for Seme, serving his first-term in Parliament is always surprised that Duale, who masquerades as a champion of unity, speaks and acts in a divisive manner.
"Whenever he makes statements, he starts by dividing the House. He raises issues that are emotional. If you really want unity in the House and in the country, you do not do that," said Nyikal in the House.
A staunch supporter of Donald Trump, the foul-mouthed billionaire who will become US President in January, and an avid follower of the American political drama series, 'House of Cards', Duale has said many detestable things.
"He needs the recess just to rest his mouth. If a mouth needed insurance then it is that of the person seated across from here," said Midiwo, just weeks ago before MPs took their Christmas break.
The signs of his reckless mouth were seen early on when the civil society, tired of MPs' pushing for higher pay, decided to brand a giant sow with his name, and then dumped the sow at the gates of Parliament Buildings, together with its 20 piglets. He was angry. He is a Muslim, and to have his name written on a pig is one of his worst nightmares. It broke his spirit and his heart. But he soldiered on.
For a grown man who called the country's Deputy President Wiliam Ruto "a soulmate", and who told a national newspaper that if the DP asked him to jump from the Kenyatta International Conference Centre (KICC), and assured him that he would not break a limb, he'd do so without hesitation. These are elements of servility.
He readily rekindles memories of Kariuki Chotara, Mulu Mutisya and Joseph Kamotho. Now, he has attacked Justice George Odunga Presiding Judge of the Judicial Review Division of the High Court of Kenya, and accused him of playing tribal politics. The Chief Justice David Maraga is upset and called it "intimidation and blackmail".
A look through a series of public interviews, news reports, parliamentary records and recordings of statements made in political rallies, paint a picture of a man, who at times thinks long after he has spoken.
"There are people who think I have not gone to school," he once said in an interview, before inviting anyone who doubts his credentials to check the records at Moi Forces Academy, and at Moi University where he got his Bachelors of Education degree. His bio also says he has an Executive MBA from Jomo Kenyatta University of Agriculture and Technology.