Narc Kenya leader Martha Karua quits Raila's team, declares her support for Uhuru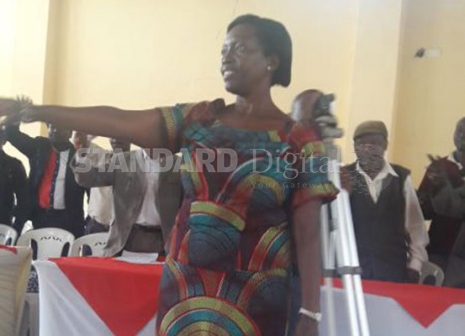 Narc-Kenya leader Martha Karua has finally declared her support for the re-election of President Uhuru Kenyatta.
Karua who has been flirting with the Opposition however said she would stick with her party, which she will use to vie for the Kirinyaga gubernatorial seat.
Karua said since Kirinyaga was totally behind Uhuru, she had no option than to join the majority as the rule dictates and the Kenyatta tide was too strong for anyone to go against.
She explained, ''I must state here and clearly that my support and that of my party is towards the presidential candidature of Uhuru Kenyatta, while I do not support the CORD or the supper alliance,'' she declared.
She has also distanced herself and Narc-Kenya from the much touted Supper Alliance comprising of the ODM, Wiper and Amani party.
''Narc-kenya has just been friends with the opposition for the sole purpose of fighting the high levels of corruption and nothing beyond that, and those linking myself or our party with the so called Supper Alliance are just engaging in witch-hunting,'' she said.
Karua was speaking at the Kianyaga Catholic hall in Gichugu constituency which she represented in parliament, where she served as the area MP for a record four terms, during a Narc-kenya delegates conference from the area.
The 700 delegates from her party were drawn from all the five Wards in the area where she briefed them of her unswerving support for the re-election of Uhuru Kenyatta.
She told the delegates the flower party will field MCAs, MPs, Senators, Women Representatives and Governors across the country since her party has offices all over.
''Since our party has offices in most parts of the country, it will field candidates in all the six elective positions save for the presidential one since we will be supporting Kenyatta's re-election bid, come the August 2017 general elections,'' she said.
Karua said she will be vying for the Kirinyaga gubernatorial seat on her party's ticket as will MCAs, MPs, and the Women Representatives from the county.
Karua further said she is in full support on the war against corruption and added that her party was fully behind the measures president Kenyatta was putting in place to contain the vice.
Following the development, Karua will now battle it out for the gubernatorial position with her immediate neighbour at Kimunye village and incumbent Joseph Ndathi .
Also to face it off with Karua is the former Devolution Cabinet Secretary Ann Waiguru who declared her intent for the position quite early should she clinch the Jubilee nominations.
Waiguru who has since announced she is running on a Jubilee ticket will go for the nominations with Ndathi and Murithi Kagai who lost to Ndathi in the 2013 general elections.