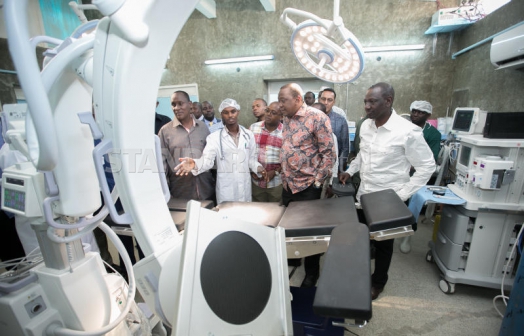 Support for the Opposition has not stopped the Government from upgrading hospitals and technical schools in Malindi and at the Coast, President Uhuru Kenyatta has said.
Speaking yesterday on his first tour of Malindi town in Kilifi County since his Jubilee Alliance lost to the Opposition during the March parliamentary by-election, the President said the government had spent Sh400 million to upgrade Kilifi and Malindi district hospitals.
He later visited Hola in Tana River. "We as Kenyan leaders cannot ignore you even though you have not voted for us," he said at Makutano Trading Centre where he made a brief stopover.
President Kenyatta also accused Opposition governors and leaders of derailing the government's development agenda at the Coast. He said Coast could have achieved significant development and land reform if local Opposition leaders were less hostile to government.
"We cannot always extend our hand of friendship to local leaders who have continued to insult my administration," he said in a town hall meeting in Malindi.
The President said time for empty talk was over. "As Kenyan leaders we won't leave you in poverty even though you have not voted for us," he said.
The President accused Opposition leaders of spreading sectarian and tribal division in Malindi.
"You cannot always continue running to your voters to tell them problems of land instead of coming to sit with me to solve them," said Kenyatta who was accompanied by his Deputy William Ruto.
The President, who has been in Coast since Wednesday, was also accompanied by National Assembly Leader of Majority Aden Duale and a host of Jubilee leaning Opposition leaders as he toured Kilifi.
Ruto pointed out that despite Jubilee losing the by-election, it had fulfilled the pledges made during the campaigns.
"Those who were doubting we would implement what we promised during the by-election should now see," Ruto said.
Kenyatta also disclosed that Sh7 billion will be disbursed to revive the collapsing Bura and Hola Irrigation schemes in Tana River County to reduce cost of fuel and frequent breakdown of pumping machines.
He also said plans were at an advanced stage to restart the cotton scheme that is crippling due to cost of maintenance of the machine and equipment.
Speaking in Hola town during commissioning of Garsen-Hola-Madogo road Kenyatta said the programme funded by World Bank is a big boost to farmers.
Kenyatta also directed the contractor rehabilitating the Garsen–Hola-Madogo to speed up the project or else the contract will be revoked in three months.
Kenyatta who also inspected the Sh400 million tarmac road within Hola township lauded Tana River leaders for working together despite being in different political parties.
The Head of State told a crowd at Liberia Estate in Hola that the government will continue to make free maternal health care for women.
Among the projects the President inaugurated include a storey building at Hola Hospital.
Kenyatta was also accompanied by Leader of Majority in the National Assembly Aden Duale, Cabinet Secretaries Joseph Nkassiery (Interior and Coordination), Najib Balala (Tourism), Coast Regional Coordinator Nelson Marwa among other State officials.