Delegates' row threatens to mar Jubilee launch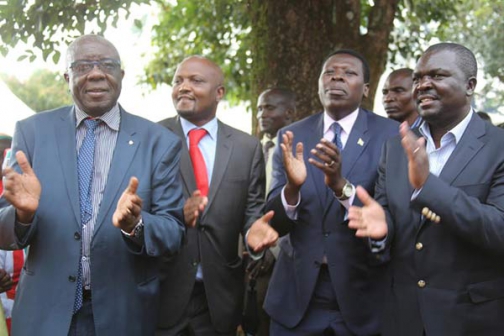 Jostling for delegates' slots threatens to divide the ruling Jubilee coalition ahead of the grand convention in two weeks.
Protests have been mounting from TNA and URP politicians locked out of the forthcoming National Delegates Conference, (NDC) even as most affiliated parties were folding up to join the newly-created Jubilee Party.
President Kenyatta has invited foreign leaders and political parties to the conference scheduled for September 8, expected to be the biggest such meeting since the last Moi-era Kanu Delegates Conference of March 18, 2002.
As preparations unfolded, there were murmurs from politicians linked to parties such as Party of National Unity (PNU), which has refused to dissolve, and URP associated with Deputy President William Ruto, who say they are missing from the delegates' list.
The invitation to the conference is being seen as a sign of who the party will support in various electoral areas and could lead to party-hopping among prominent names who feel left out.
Former Ndaragwa MP Jeremiah Kioni, who is opposed to dissolution of PNU, said he had not received invitation to the meeting in Kasarani, Nairobi, on September 9 and 10.
DISSENT ON DISSOLUTION
Others are a former Assistant Minister, Nderitu Mureithi and Meru Governor Peter Munya.
They, however, expressed hope that the Jubilee Party leadership would embrace PNU despite its dissent on dissolution.
"That is what we call mature democracy where you accommodate views and opinions of others," said Mr Kioni.
"I will attend the merger event if I am called, but we have made it clear that the decision to merge with other parties will be made by PNU delegates during our delegates' conference."
Sources in the JP ranks say President Kenyatta and the DP, are working on the list of interim national officials, which will be read out to the delegates on the final day of the conference.
The officials selected by the president and his deputy remain a secret. The list is not yet complete because of haggling over numbers between TNA and URP, a source said.
United Democratic Forum party chairman and Nominated MP Hassan Osman said he hoped the national officials would be allowed to pick the county level officials across the 47 counties.
He spoke as some leaders of Ford People, founded by former Cabinet Minister Simeon Nyachae, announced it would be dissolved and merged with JP.
Ford People interim chairman Albert Nyaundi declared the party's support for Jubilee but interim vice chairman James Kenani said dissolution had not been discussed by the National Executive Committee.
A storm is brewing in Jubilee strongholds where some people who consider themselves the bonafide delegates of various member parties claim their names have been deleted from the official list.
Wambugu Nyamu, a Nyeri senatorial aspirant, told The Standard on Saturday that his name and that of officials had been struck off the list and their complaints ignored by the national office.
Since the JP's inception, Mr Nyamu has been criss-crossing Central Kenya and parts of Rift Valley popularising the party.
"I was surprised when I was told my name and those of fellow officials were not among delegates who will attend the NDC or the merger meeting," said Mr Nyamu.
ELIGIBILITY
The Standard on Saturday learnt that in TNA, only party officials and elected leaders are considered delegates.
Nyeri County Secretary-General Regina Macharia said they had a list of "bonafide" party officials who would attend the delegates' conference alongside MCAs, MPs, Senators and Governors.
"I had already submitted a list of 20 branch officials, led by the Chairman, Thuo Mathenge, as delegates," she said adding that, "I then discovered that another list with different names had been given to headquarters, but they could not be cleared without my approval, and the separate list was struck out."
TNA Executive Director Joseph Mathai confirmed that each county branch would be represented by 20 delegates, all of them elected leaders, adding that no parallel lists would be accommodated.
Mr Mathai said the party had already submitted 1,650 names of delegates who would attend the merger meeting.
"The names include 20 delegates from each county, gold, silver and platinum members, governors and their deputies, senators, MPs and MCAs and the national oversight team," he said
URP delegates are also grumbling over the delegates list.
Officials in the North Rift claimed that Jubilee affiliate parties had presented names of their delegates and left out URP officials.
But JP's national steering committee co-chairman Dr Noah Wekesa, said they would be strict on eligibility.
"We want to make sure that the people who attend the convention are real delegates and are also registered voters," he said.
"In Uasin Gishu, we have URP and TNA delegates who will represent the two parties but will form one team after the merger. URP office bearers will attend as interim delegates," said Busienei.
Two MPs from the North Rift region Elisha Busienei (Turbo) and Cornely Serem (Aldai) said they are expecting communication any time this week over the delegates to attend the convention in Nairobi.
Told about the discontent, Jubilee Party Steering committee co-chair and Meru Senator Kiraitu Murungi played it all down .
He said all was well with the merger and preparations for the convention. Kiraitu said they had invited foreign party leaders to strengthen Jubilee's international links.
Earlier this week the senator met a Chinese delegation and talked of Co-operation with the Chiunese Communist Party.
He said all aspirants who wanted to contest elective positions on a JP ticket would be invited for the official unveiling of the party at Kasarani Stadium.
"This is in line with the decision made by the party leadership to include them in the party's activities from the very inception. The aspirants will also be registered during the launch."
Yesterday, former Devolution Cabinet Secretary Anne Waiguru received her life membership certificate from TNA, meaning she will also be attending the events.
Jubilee is also forming partnerships with the US Republican Party and South Africa's ANC.
- Reports by Jacob Ngetich, Titus Too, Eric Abuga, Job Weru
Arsenal agree £35m for central defender Mustafi
Arsenal have agreed a fee of £35m with Valencia for central defender Shkodran Mustafi. Valencia had been reluctant to part with Mustafi but it seems the German has been allowed to leave for a huge fee second only to the £42m paid to Real Madrid for Mesut Ozil.