Jubilee a threat to devolution, claims Raila Odinga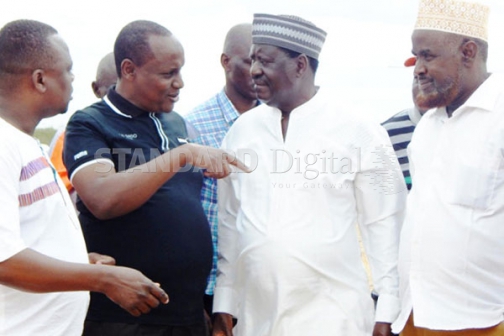 CORD leader Raila Odinga ended his tour of the Coast yesterday by describing the Jubilee government as "the enemy of devolution and a corrupt regime".
Raila told residents of Garsen in Tana River County that Jubilee had embarked on propaganda a year to the General Election that it was launching large-scale infrastructure projects, yet it had no money to complete them.
He accused President Uhuru Kenyatta and other government officials of launching the same projects repeatedly to give the impression that the government is bringing progress.
Raila claimed President Kenyatta and Deputy President William Ruto are not fully committed to the 2010 Constitution, which introduced devolution.
The former Prime Minister arrived in Tana River County yesterday morning after touring Kwale for two days starting Thursday. He met leaders of the two teachers unions – KNUT and KUPPET – and his Orange Democratic Movement (ODM) delegates and held discussions with Governor Hussein Dado in Hola.
In the evening, Raila addressed ODM delegates and supporters at Garsen Grounds, accompanied by Malindi MP Willy Mtengo and his Nyando counterpart Fred Outa.
Raila said Jubilee is not a committed supporter of devolution, which he described as the best opportunity and avenue to develop the Coast and other underdeveloped areas.
"Jubilee is the enemy of devolution. It is led by one man who opposed the 2010 Constitution and another who was lukewarm during the referendum. These people are now leading the country, but they cannot implement the Constitution," he said Raila.
He added that since 2013, county governments have suffered cash shortages and deliberate delays in disbursement of devolved funds.
"They do not give enough money and the disbursement is always late," he said.
The ODM leader said governors were frustrated by Jubilee's negative attitude towards them. He said Jubilee has resisted proposals to increase annual allocation to county governments, which he said suffer chronic cash shortages and lack resources to invest in development.
"Sometimes you should not blame the governors because Jubilee does not give them enough money. What the county governments get is not enough for development because it can only pay salaries," Raila said.
He urged Coast residents to reject Jubilee's overtures and promises of development. According to Raila, Jubilee's rule since 2013 represents wasted opportunities and dashed hopes.
"Jubilee had an opportunity to develop the country, but they have wasted four years," he said and accused Uhuru's administration of subjecting Kenya to huge debts through heavy borrowing and corruption.
"Jubilee is promising projects, yet it knows very clearly there is no money to implement them."
The Opposition chief praised Governor Dado as a steadfast leader and called for unity within CORD, which he insisted won the 2013 presidential election.
He said the Jubilee administration has denied many eligible Kenyans at the Coast and other parts of the country national identity Ccrds and other vital documents because it wants to controls who votes next year.
Raila said following proposals to disband the Independent Electoral and Boundaries Commission, the Opposition stands a good chance to defeat Jubilee if its supporters get ID cards, register to vote and cast ballots next year.
"If we get IDs we shall register and vote in large numbers and get a massive victory," he said.
Raila began his trip in Kwale on Thursday where he opened several ODM offices, launched a school bus and addressed political rallies.
Leicester and Arsenal in King Power stalemate
Leicester City and Arsenal are still searching for their first Premier League win of the season after sharing a 0-0 draw at the King Power Stadium on Saturday that only came to life during a frenetic final 10 minutes.