President Uhuru Kenyatta hits out at Opposition over demands to have MPs released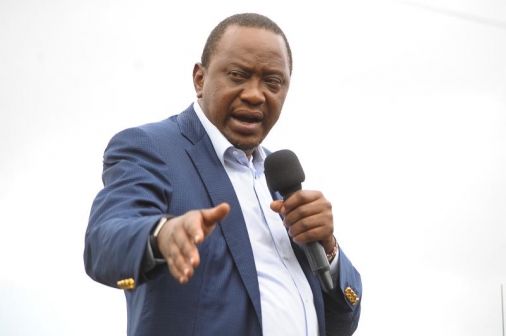 President Uhuru Kenyatta Thursday took a swipe at the Opposition for demanding the immediate release of eight MPs in police custody.
The President asked the Opposition politicians to instead publicly condemn utterances that seek to divide Kenyans along ethnic lines.
Uhuru said no one including Jubilee leaders would be spared for inciting Kenyans against each other.
"No one is above the law. Anyone who engages in utterances that seek to instill fear and incite communities against each other will not be spared whether from Jubilee or CORD. I will not allow my country to walk this path again," said President Kenyatta in Brussels, Belgium.
The President responding to questions by journalists said: "I will do everything in my powers to ensure the country remains united ahead of the 2017 elections. Regardless of who is accused of the crime, whether my supporter, friend or brother or the opponent, we must follow the law."
Uhuru's stern warning to hate mongers came at a time when eight legislators, including three from his Jubilee wing; Moses Kuria (Gatundu South), Ferdinand Waitutu (Kabete) and Onesmus Ngunjiri (Bahati) were arrested over hate speech.
Negative ethnicity
He expressed concern that negative ethnicity was slowly getting rooted in the country, going by the public pronouncements and social media updates.
Uhuru said this as CORD called for the release of the MPs accused of hate speech. The Opposition said if the legislators were not released, it would resume street protests on Monday.
In Nairobi, CORD leaders Raila Odinga, Kalonzo Musyoka and Moses Wetang'ula said they would stop engagements in dialogue to find a solution to the electoral body impasse and instead intensify the protests.
The CORD brigade explained that they shall declare their leaders political prisoners, hold a public meeting and a vigil at the Freedom Corner and proceed to hold a prayer service for them in Machakos Town on Sunday.
"Under the circumstances, CORD demands the immediate release of all its MPs without charge or any other conditions failure to which we shall resume our national protests on Monday," said Kalonzo in a statement read on behalf of CORD.
Raila said CORD MPs only reacted to the statements by Mr Kuria and Mr Ngunjiri, adding that denying them bail and holding them without trial was unconstitutional and illegal.