I have a right to associate with anyone, MP James Rege tells ODM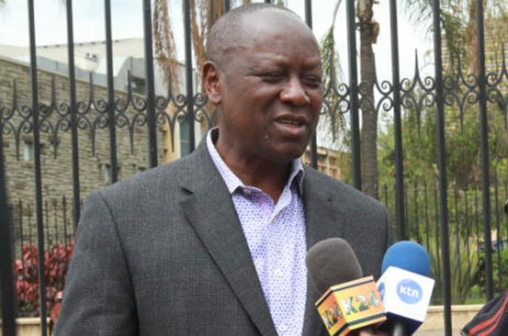 HOMA BAY: Karachuonyo Member of Parliament James Rege has dared are ODM officials make good their threats to recall him for working closely with the ruling administration.
The MP said he had a constitutional right to associate or join an association of his choice and any attempt to block such a decision was an abrogation of his constitutional right.
Rege claims ODM branch officials are currently mobilizing and collecting signatures from voters in Rachuonyo to facilitate the legal process to push him out of Parliament.
But the MP said he was not cowed by the move because he has initiated a number of development projects aimed at transforming the lives of the people of Rachuonyo.
"What has those who are challenging me to resign done. When working in the community we aim at the highest good. That is exactly what I am doing. I am funding key development projects," he said.
Rege disclosed that plans were currently complete to tarmac Kendu-Bay – Ojijo Oteko road which is key in connecting the rural markets and the outlying urban towns in the region.
Other multimillion projects in health, education and water sectors were also going and he would soon call a public rally to be officiated by the State officials to rubberstamp his works.
"My development record speaks volumes and I am not scared of anybody who thinks that leading an onslaught against my leadership will make me unpopular," said the legislator.
On Saturday, The Standard established that Rachuonyo ODM branch officials were exploring options of seeking legal redress after they found it hard to invoke the recall clause to send the MP home.
Recall clause in the Elections Act says voters have one year window period to recall an MP and only after they have deposited Sh500, 000 with the Independent Electoral and Boundaries Commission.
It also says that a Member of Parliament can only be recalled after 24 months of being in office and 12 months before the next General Election.
This means even if the ODM teams succeeds in petitioning the MP they will be time barred if the country goes to poll on the 2nd Tuesday of August as it is articulated in law uninterrupted.
The petitioner must also get 30 percent support from registered voters in that constituency in addition to 15 percent voters' support in all the wards in the constituency.
In addition to this, the petition must be taken to the High Court which will then confirm whether a recall is necessary. No time limit is given for this and it would take more than one year.
A Kisumu based advocate Cleveland Ayayo charged with the task of drawing the petition for ODM said he was still weighing the legal technicalities that could derail the petition.