Raila Odinga wants action on historical injustices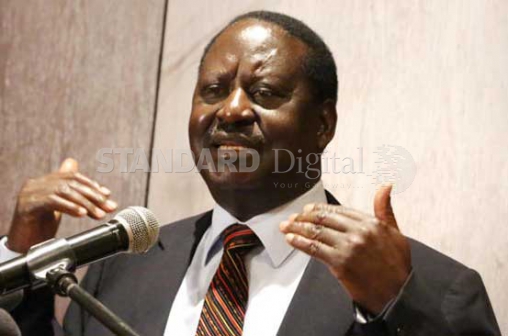 ELDORET: Opposition leader Raila Odinga has called on the Jubilee Government to urgently deal with the historical injustices to promote healing and reconciliation.
Speaking at the launch of a book on former MP Jean-Marie Seroney at the Oxford University's Jesus College in the United Kingdom, Raila said long-standing historical injustices, many of which are contained in the Truth, Justice and Reconciliation (TJRC) report, are holding Kenya back.
"People have raised this issue for a very long time. Seroney was particularly concerned about land injustices. We have long advocated for a resolution of the land question that seems never to go away. We have long pleaded for the full implementation of the TJRC report in its original form. Injustices of the past need to be dealt with expeditiously and with all honesty," Raila said.
He asked President Uhuru Kenyatta to follow his recent apology for injustices with concrete action to close what he described as a chapter of betrayal and pain that has left many Kenyans angry and frustrated.
Raila said historical injustices in Kenya started at independence in 1963 and affected individuals, families and communities.
He called for a return to the Agenda Item Number 4 as contained in the Peace Accord of 2008 which was designed to address historical injustices by providing long term solutions to land problems in areas like the Rift Valley where he is seeking support for his 2017 presidential bid.
"The full realisation of Agenda Four is critical for the future stability and prosperity of the country," Raila said.
He said the country was wanting in fostering national cohesion and the elimination of feelings of exclusion and marginalisation.
Land, he said, remained a critical and an emotive issue years after leaders like Seroney began to push for land reform. Raila said the country had hoped to turn the corner on the land question especially with the promulgation of the 2010 Constitution and formation of the National Land Commission. But he expressed concern that Jubilee was determined to take the country back to the old order with regard to land administration with amendments to the land chapter.
"Dealing with these issues is critical to the future of Kenya as a united nation-state," said Raila, who also called for a meeting between victims of land injustice and the government .
The former premier was later set to meet the Kalenjin diaspora in London and discuss issues that affect Rift Valley residents.