Former ODM national chairman Henry Kosgey hints at political comeback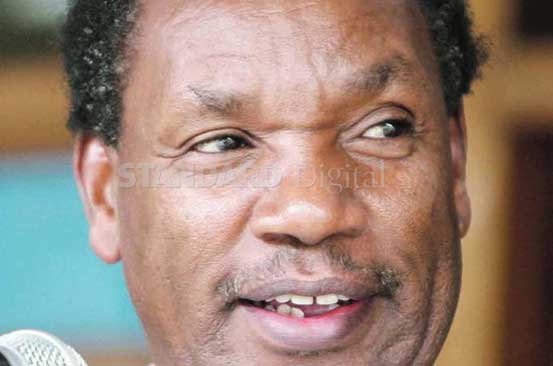 NANDI: After many months of maintaining a low profile, former long-serving Tinderet MP Henry Kosgey could be headed back to active politics.
Kosgey, also a former ODM national chairman, recently said he would listen to the voices of the people of Nandi who elected him six times as Tinderet MP.
Since the 2013 General Election Kosgey, who contested the Nandi senatorial post on an ODM ticket and lost to URP's Stephen Sang, has led a quiet life, shunning politics.
But during the funeral of Deborah Rugut, daughter to former Provincial Commissioner Japhter Kiplimo Rugut, Kosgey said local leaders had appealed to him to go for a top seat in the next elections.
Former nominated MP Mark Too and Mr Joseph Maritim, the chairman of former councillors' forum in Nandi, among other leaders urged Kosgey and Rugut to offer themselves for elective positions.
"We want Kosgey to resume his active political leadership so that we can be united as leaders and push the development agenda in Nandi," said Maritim.
Too said residents missed Kosgey's contributions to development and challenged him to make a comeback and work with other leaders to promote development in Nandi.
Heard calls
Area leaders, including Deputy Governor Dominic Biwot, Women's Representative Zipporah Kering, Nandi Hills MP Alfred Keter, former ODM executive officer Magerer Langat among others, were present during the burial at Koilot in Lessos, Nandi County.
The crowd cheered Kosgey as he walked to address the gathering after he was invited to give his speech by the deputy governor.
In his response to the suggestions, Kosgey said: "I have heard the calls of the residents of Nandi and I will not let them down."
It is, however, not clear which political position Kosgey could go for in the next elections. Some of his supporters expect him to gun for the gubernatorial post while others hope he will eye the Senate.
He is one of the most senior politicians in Nandi and also among top leaders in the Rift Valley region after serving as MP for Tinderet for six terms as well as a Cabinet minister in various ministries both in the Kanu and in the Grand Coalition governments.
Takeover by Mombasa CORD defectors causes ripples in JAP
Recent defectors from the Wiper Democratic Movement (WDM) and Orange Democratic Movement (ODM) are in control of the Jubilee Alliance Party (JAP) in Mombasa after edging out a group of officials from Jubilee's constituent parties.