Francis Muthaura's work relations with Mwai Kibaki, Daniel Arap Moi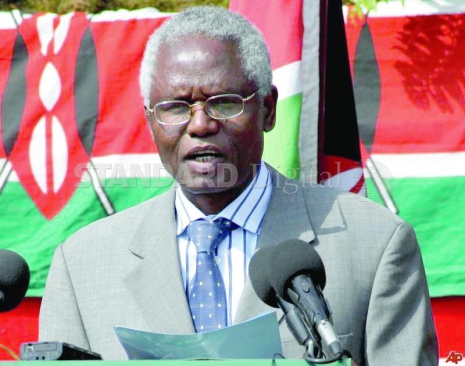 Former Secretary to the Cabinet Francis Muthaura has for the first time spoken about the palpable anxiety surrounding the disputed 2007 election results.
He remembers former presidents Daniel arap Moi and Mwai Kibaki as humble leaders who served the nation selflessly.
"So humble were they that we were often forced to be extra careful lest we forget they were heads of state," he says.
But what was his job description? "To facilitate the work of the president. My job was to assist in linking the president with line ministries or ministers. It was a tough job but satisfying considering the fact that I dealt with head of state and ministers directly.
"It was not a one-man affair because that office is an institution...I was chair of the permanent secretaries and a lot of policy issues are discussed at that level. It is a privileged position because you can call senior officers in government and private sector to relay information," explains Muthaura, who also held several ambassadorial positions in Moi's government.
Having been a senior officer and specifically a close ally to Kibaki, Muthaura was part and parcel of major government decisions.
The now chairman of the Lamu Port Southern Sudan-Ethiopia Transport (LAPSSET) corridor project, recalls events prior to the disputed 2007 election.
He describes the moments just before results were announced as tense and worrying. From his home, he called then President Kibaki, who was still in Othaya, briefing him on the results as thy trickled in.
"In the initial stages, it was a bit worrying. I informed him (Kibaki) that the results were coming in fast. Predictably, the western part of the country was voting for ODM while Eastern Kenya was voting for Kibaki," he narrates.
Kibaki later travelled back to Nairobi. Muthaura says as the tallying went on, the margin was getting narrower and at one point the gap between Kibaki and ODM leader Raila Odinga came down to one million.
As Kibaki's confidant, Muthaura was there to encourage him. The former head of state, he says, was ready for whatever outcome.
"When you are with him (Kibaki) you know what he feels. I told him, 'Irrespective of what happens, leave office with your head up; even if you are to lose. It is always good to prepare for the worst. 'He was very objective and he kept telling me that the nation will decide who wins. He believed in democracy."
But immediately after the elections, all hell broke loose following disputed results between both sides of the divide.
Contrary to sentiments shared by Caroli Omondi concerning the power brokering deal (See separate story), Muthaura believes the deal was reached thanks to Kibaki's willingness to hold consultations with Raila.
"It was not Kofi Annan who made Raila and Kibaki to talk. Kibaki offered Raila open space to talk but Raila did not trust him, arguing he might be given a raw deal. Raila insisted on a neutral personality and that is why Kofi was called in."
For him, the promulgation of the Constitution in 2010 has been one of the memorable moments in his entire time in public service.
He describes the consensus reached when the constitution was passed as a rare moment in the history of the country and terms it one of the greatest achievements of the coalition government.
But there were also challenging times. According to Muthaura, the handing over power from former President Moi to Kibaki in 2002 came with its own shortcomings.
"...It was a frightening moment. Incoming politicians did not respect the advice of the civil service and took over the management of protocol, resulting in confusion. The crowd was charging and some even tried to throw mud at the former president. For the first time in a public rally, I looked behind me to see if there was an escape route, in case of a stampede," he narrates.
After the 2008 peace accord, Muthaura was mentioned and later charged with crimes against humanity at the International Criminal Court (ICC) following the post-election violence that resulted in loss of lives and displacement of thousands of people. However, in March 2013, all charges were withdrawn.
Let us protect Kenya's ailing sugar industry
"More than fifty years ago a middle-aged woman walked into the clinic of Kurt Goldstein, a neurologist. Though she appeared normal and spoke fluently, she had one extraordinary complaint.